Posted on Jul 18, 2013 by Ray d'Amico | Comments (0)
In loving memory of Joyce Riley
July 31st, 1948 - June 25th, 2017
Joyce,
Thank you so much for believing in us! We will remember and celebrate you as an inspiration.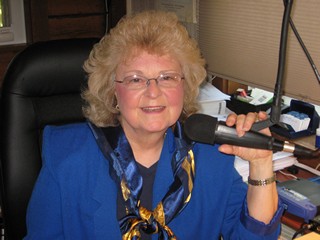 ---
Joyce Riley interviews Dean DeWulf and Ray d'Amico on The Power Hour. The Power Hour with Joyce Riley is a three-hour nationally syndicated LIVE radio show, broadcast every Monday through Friday, 7-10 AM CST on the Genesis Communications Network.
Listen to the podcasts now, by clicking the MP3 links below.
It's a real honor and a lot of fun to be interviewed by Joyce Riley, JD, Josh and Daniel on The Power Hour.
Topics we cover:
Our story, how Silver Botanicals came to be, what's new and upcoming.
Our products, their uses and their formulation.
The chemistry of essential oils.
The chemistry of colloidal silver.
The chemistry of conventional personal care products and more.
Aspects of the commercial chemical industry.
Aspects of industrial science and processes.
Aspects of business in America and grass roots support of American business.
We really admire and appreciat what Joyce has done all these years, bringing empowering information on health and freedom through The Power Hour radio show. If you're thinking about making a purchase, please patron The Power Mall, where they have our products at a great price! Support freedom and alternative media!
---
Joyce Riley, RN BSN
REGISTERED NURSE - MEDICAL EXPERT - TALK RADIO HOST
Ms. Riley is a graduate of the University of Kansas with a Bachelor of Science in Nursing. Her nursing career includes clinical positions of Staff Nurse, Patient Care Systems Analyst, Utilization Review, Nursing Instructor and Director of Nursing. She has presented at the National Institutes of Health, medical legal conferences such as the American Trial Lawyers Association, was host of her own radio talk show "NurseTalk Radio-The Truth in Health Care", and has been a guest on over 1500 radio and television shows, including Art Bell, Chuck Harder, Air America, and Michael Reagan.
Ms. Riley served as a Captain in the United States Air Force and flew on C-130 missions. She now serves as spokesperson for the American Gulf War Veterans Association who's purpose is to provide education and information for the Gulf War veterans and their families. Her personal mission is to seek treatment for the illnesses from which thousands of Gulf War veterans now suffer.
While employed at Bexar Count Hospital, San Antonio, Ms. Riley became involved in nursing medical malpractice issues after learning that Nurse Genene Jones was responsible for deaths of many babies in the well publicized "Baby Death" case. She has served as consultant and testifying expert for both plaintiff and defense medical malpractice cases for the last ten years.
Ms. Riley hosts The Power Hour, a radio program dealing with a wide range of issues including health, wellness, homeopathic treatments, Veterans issues, government fraud, civil liberties, and Gulf War Illness.
---
About The Power Hour
"ThePowerHour with Joyce Riley" is a three-hour nationally syndicated LIVE radio broadcast Monday through Friday, 7-10 AM CST. We focus on subjects that inform and educate people every day to the real challenges that face this country.
Listen Live at www.GCNLive.com or www.ThePowerHour.com
AM/FM Stations:
Alabama: Birmingham and Sylacauga, Alabama WYEA 1290 a.m.
California: Loma Linda, Riverside, Los Angeles 1050 a.m.; Live on KCAARadio.com
California: Redlands KMET "Smart talk" 1490 a.m.
California: Riverside and San Bernadino, CA 1490 a.m. – 2nd hour
California: Santa Cruz KKMC 880
Florida: Tampa Bay, Bradenton and Sarasota: 1490 WWPR a.m.
NEW! Idaho: Rexburg KUDA 1610 AM; Epic Broadcasting
Kansas: Liberty and Kansas City; Kansas KCXL 1140 a.m.
Louisiana: New Orleans 600AM – Replay 10 p.m. – 1 a.m.
Michigan: Detroit WDRJ 1440 am; 6-7 CT and www.1440wdrj.com
Minnesota: North Branch 87.9 f.m.
Missouri: Kansas City, Missouri KCTO 1160 a.m.
Missouri: Poplar Bluff, Missouri KLID 1360 a.m
Montana: Kalispell Live on Z600.com; All 3-Hours
Nevada: Las Vegas, Nevada, KKVV 1060 AM – Daily Replay at Midnight to 3 a.m.
New Mexico: Roswell, New Mexico KCKN 1020 a.m – 2nd Hour at 9 p.m. - CT
New York: Rochester, Brockport, WMJQ 105.5 f.m., WASB 1590 a.m., WRSB 1310 a.m.
Ohio: Columbus and Nelsonville WAIS 770 a.m.
South Dakota: Sioux Falls (and parts of Omaha) 1640 a.m.
South Dakota: Sioux Falls (and parts of Minneapolis, MN) 1710 a.m.
Tennessee: Gatlinburg 90.7 FM
Tennessee: Knoxville WBCR 1450 a.m. – Daily Replay at 5 p.m. – 8 p.m.
Tennessee: Knoxville WITA 1490 a.m. - Daily Replay at 5 p.m. – 8 p.m.
Tennessee: Maryville/Alcoa WBCR 1470 a.m.
Tennessee: Memphis/Millington WLRM 1380 a.m.
NEW! Tennessee: Memphis AM 1600 (50,000 Watts)
Tennessee: Nashville WNQM AM1300 – Daily Replay Tues thru Sat: 1 a.m. – 4 a.m.
Texas: Austin, Temple and Killeen KTAE 1330 a.m. and Live on KTAE.net
Texas: Austin 96.3 f.m. and 90.1 f.m.
Texas: Waco Cameron KTAE 1330 a.m.
Washington, Spokane 630 a.m.
Wisconsin: Ladysmith WLDY 1430 a.m.
This broadcast is also available on shortwave worldwide by WWCR
All Times CENTRAL TIME Zone North America a/o October 15, 2008
7:00 AM The Power Hour WWCR 7.490 MHz and 13.845
8:00 AM The Power Hour WWCR 7.490 MHz and 13.845
9:00 AM The Power Hour WWCR 7.490 MHz and 13.845
Evening Replay on 9 p.m. CENTRAL TIME: News Hour: 4.840 MHz.
All Three Hours REPLAY from 2 a.m. to 5 a.m.: 4.840 MHz.
Internet Streaming Audio and Archives Available at:www.GCNLive.com
Satellite audio feed:www.gsradio.net/asx/star4.asx
---
Excerpt from The Power Hour Website
Founders of Silver Botanicals, DEAN DEWULF & RAYMOND D'AMICO, will join The Power Hour for a special announcement about brand new products available at The Power Mall.

Central to all of their products' formulation is the use of true-colloidal nanosilver and essential oil blends. Silver Botanicals employ both these ingredients synergistically, along with other natural ingredients, to produce extremely effective products. "It was our appreciation of colloidal silver and essential oils that eventually lead to the realization of Silver Botanicals' products."

Everyone should take responsibility for their health decisions by choosing natural, time-tested solutions for our daily hygiene needs!

New Power Mall Products from Silver Botanicals:
* Roll-On Deodorant
* Spray-On Deodorant
* Silver Foot Shield
* Silver Shield Sanitizer
* Silver Shield Dog & Bedding Spray
* Silver Tongue Oral Disinfectant