About Our Leadership Team
Dean M. DeWulf - Founder, President, & CEO
Dean is our resident chemist and master formulator. He spends many hours in the lab conducting experiments and doing research. Dean is passionate about science and understanding the natural world. His fascination with the amazing properties of silver lead him to the vision of Silver Botanicals. He is also passionate about liberty and individual freedom. Through Silver Botanicals, Dean culminates his skills and passion on daily basis.
Dean's Bio
Dean grew up a in Texas and received his BS & MS in Chemistry from Southwest Texas State University in 1995. He spent 15 years working in a variety of chemistry-related fields, including, formulation chemistry, analytical chemistry, semiconductor process development, alternative energy R&D, and government consulting. However, he quickly became disenchanted with corporate America and how it goes about producing products and services for the American consumer. In particular, Dean saw a tremendous need for more natural & effective solutions to our everyday needs. With a desire to be a force of change in this area, Dean, along with family and friends, founded Silver Botanicals in the fall of 2010 in Austin, Texas.
---
Dean's Interests Include
Christianity, spending time with family & friends, reading, motorcycles, watching educational programs, Sci-Fi, swimming, camping, poker, plants, video games, Austrian economics, libritarian philosophy, & natural living.
Dean's Favorite Quote
"Ideals are like stars: you will not succeed in touching them with your hands, but like the seafaring man, you choose them as your guides, and following them, you reach your destiny."
- Carl Schurz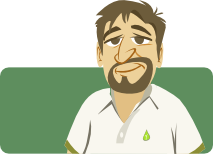 Dean's Recent Articles

---
---
---
---
---
---
---
Raymond d'Amico - Co-founder & Vice-President
Ray is our resident IT technician. He is involved in operations, marketing and sales. Ray also contributes to art design and web development. Ray is passionate about health freedom, learning about health secrets and exploring natural alternatives. Ray was trained in the use of essential oil by CARE. Ray later then introduced Dean to essential oils, which is a big part of Silver Botanicals' products.
Ray's Bio
Ray grew up in upstate New York, where he lived until the age of 23. He then moved to central Florida where he attended Full Sail University for audio engineering. Then, in 2004, he moved to Austin, Texas where he has lived ever since. Throughout his life, Ray has held various positions as a troubleshooter and repair technician. In 2006 he began to work as a sole proprietor, offering IT services to local businesses and individuals. In 2010, he began Silver Botanicals with Dean DeWulf.
Throughout his life, a strong interest always existed for learning suppressed knowledge--worldly secrets and beyond. Nutrition; herbs; essential oils; wholesome foods; ancient remedies; energy; the esoteric, to name a few. Ray feels that Silver Botanicals resonates strongly with these pursuits.
---
Ray's Interests
The Internet; Linux; open source software; electronics; mechanics; engineering; herbs, essential oils and nutritional supplements; organic food; raw food; esoteric wisdom; space; energy; nature; hiking; exploring new places and much more.
Ray's Favorite Quote
"If you want to find the secrets of the Universe, think in terms of energy, frequency and vibration."
- Dr. Nikola Tesla, 1942