Gifts From The Magi
Colloidal Gold & Ancient Essential Oils Body Spray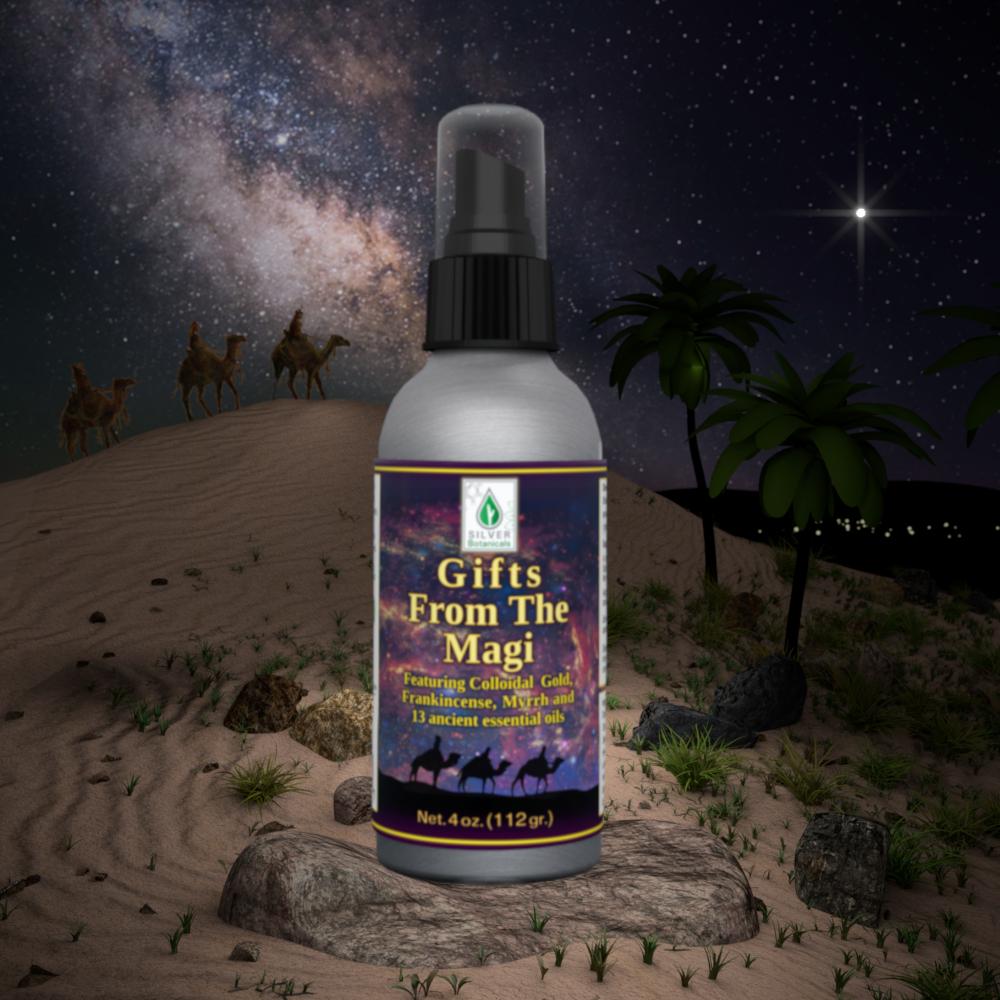 Gifts From The Magi - A Journey to Ancient Times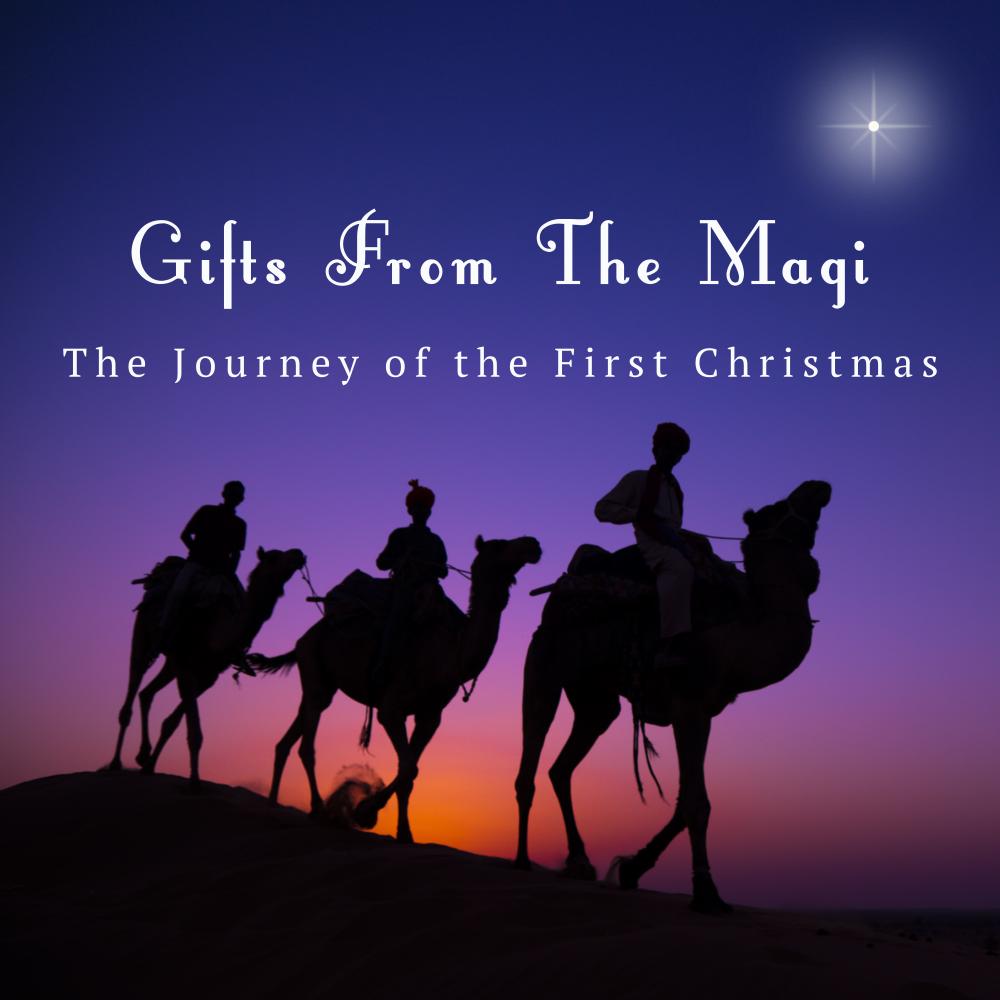 The Journey of The First Christmas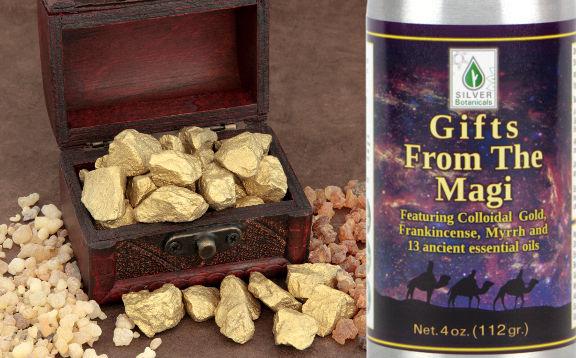 Gifts From The Migi - Frankincense, Gold & Myrrh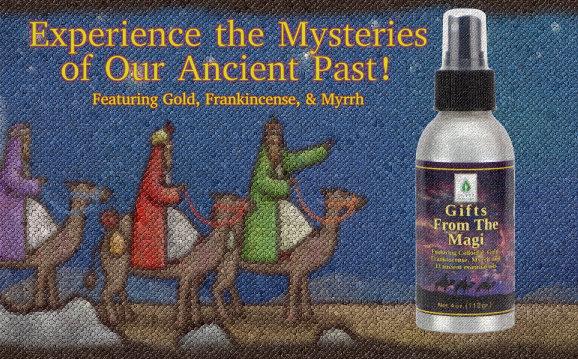 Gifts From The Magi - Experience the Mysteries of Our Ancient Past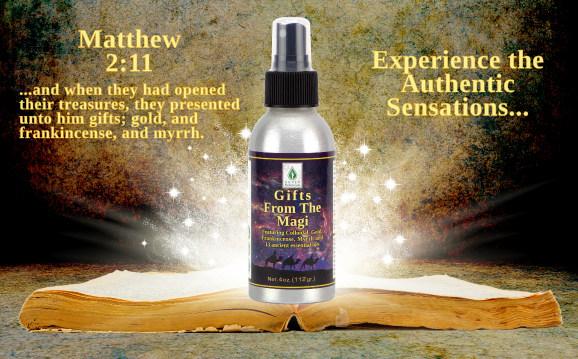 Mathew 2:11 - Frankincense & Myrrh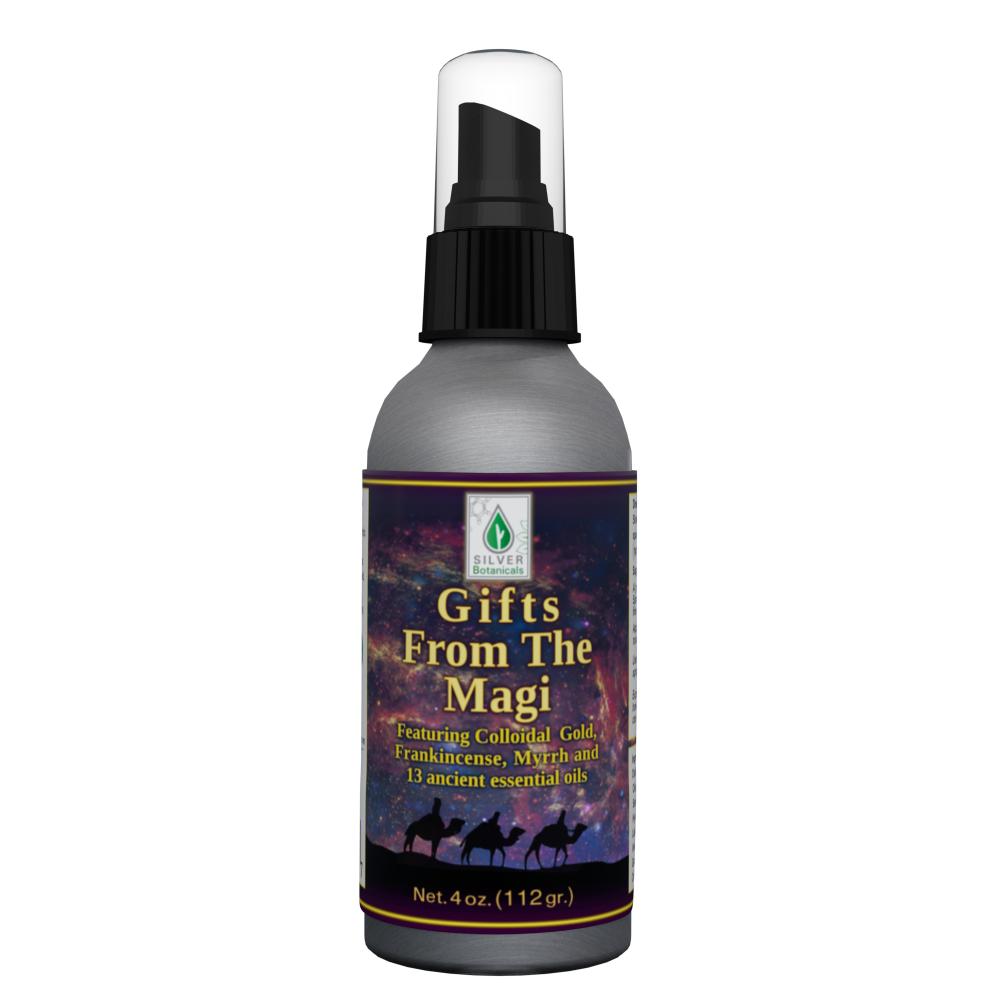 Gifts From The Magi 4oz. with Fine-mist Sprayer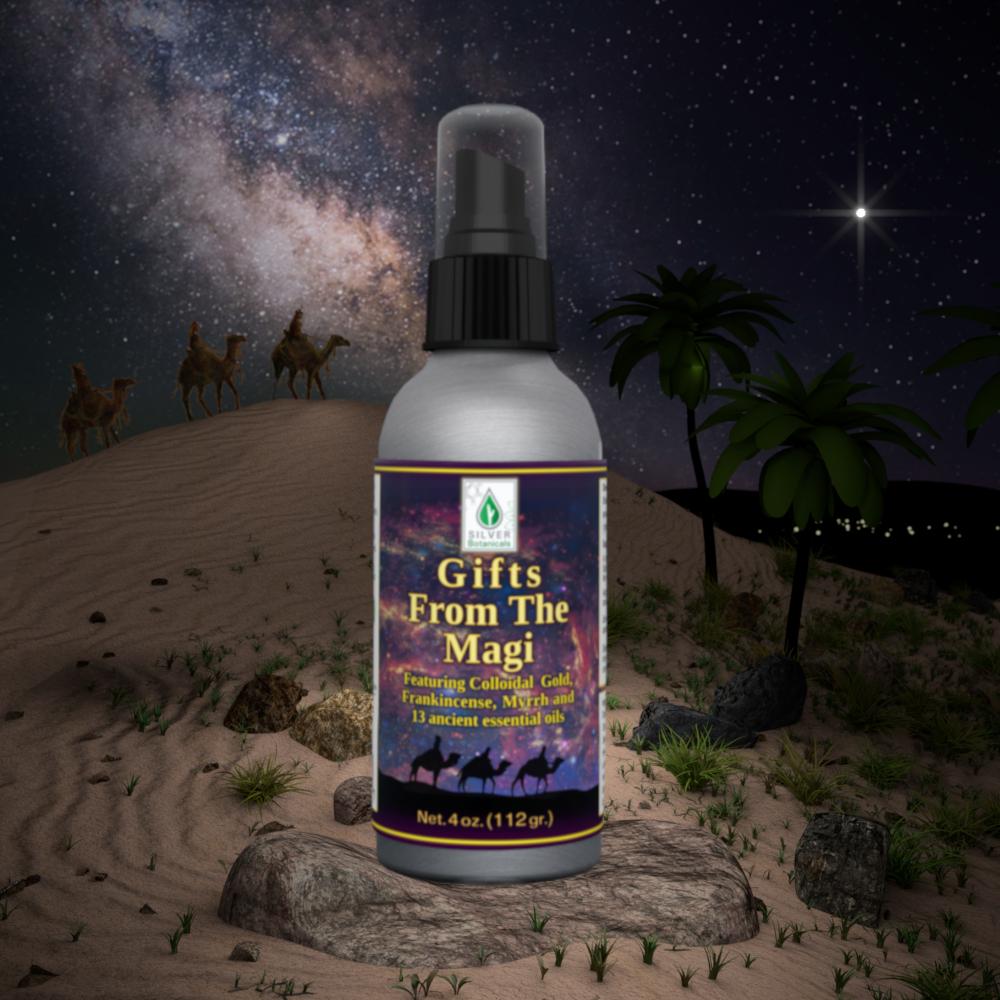 Gifts From The Magi - A Journey to Ancient Times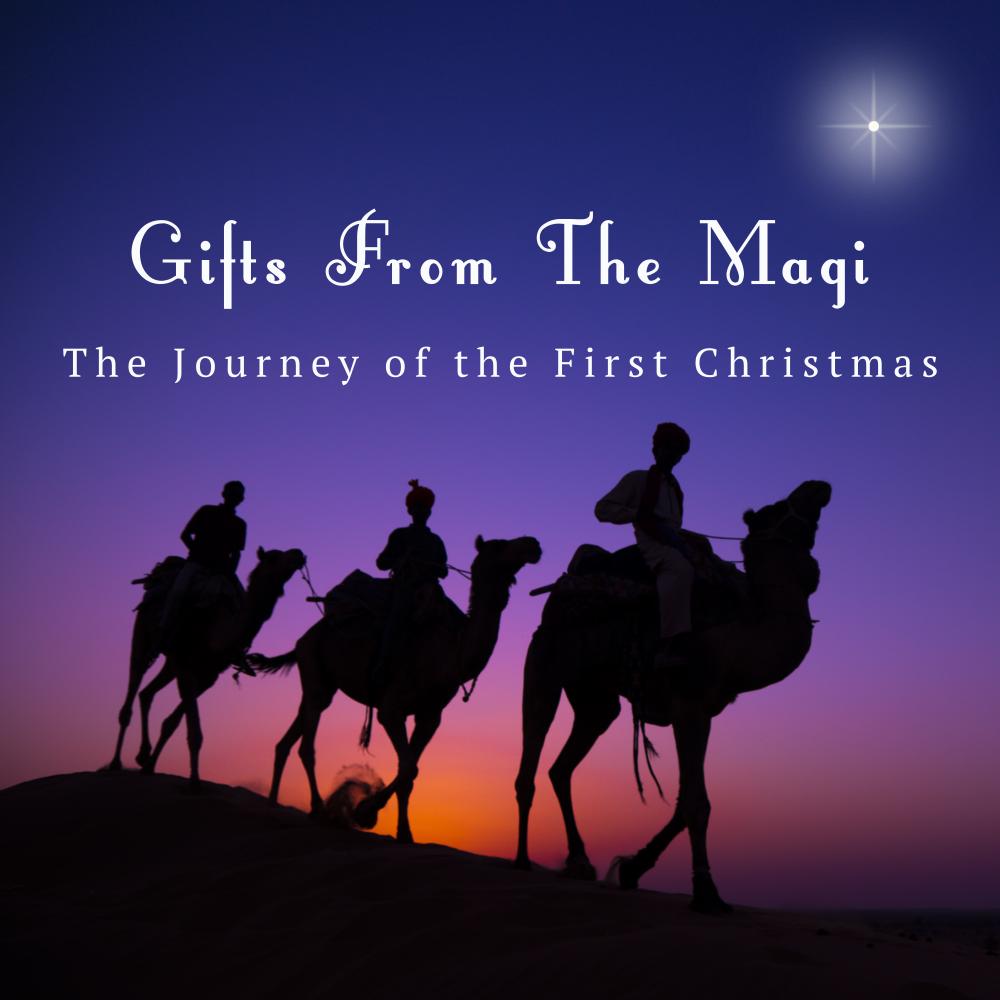 The Journey of The First Christmas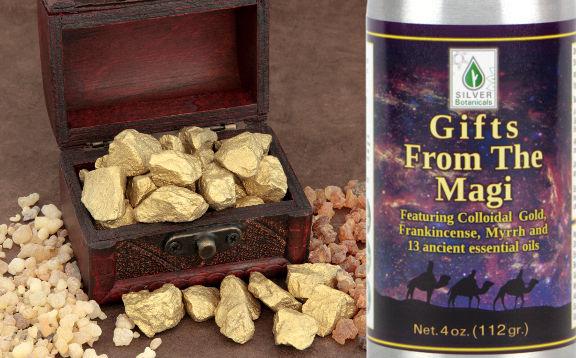 Gifts From The Migi - Frankincense, Gold & Myrrh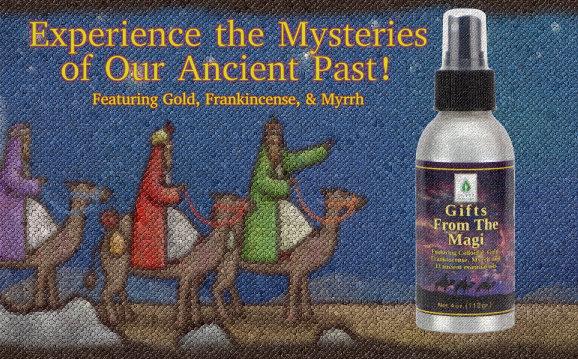 Gifts From The Magi - Experience the Mysteries of Our Ancient Past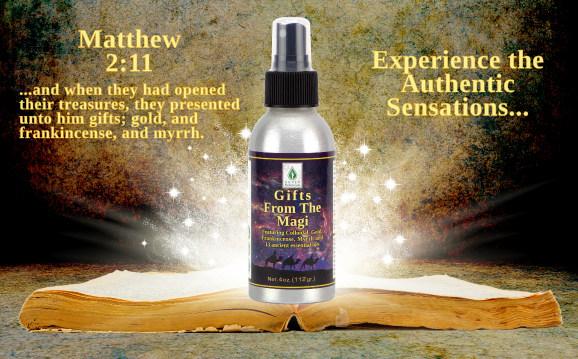 Mathew 2:11 - Frankincense & Myrrh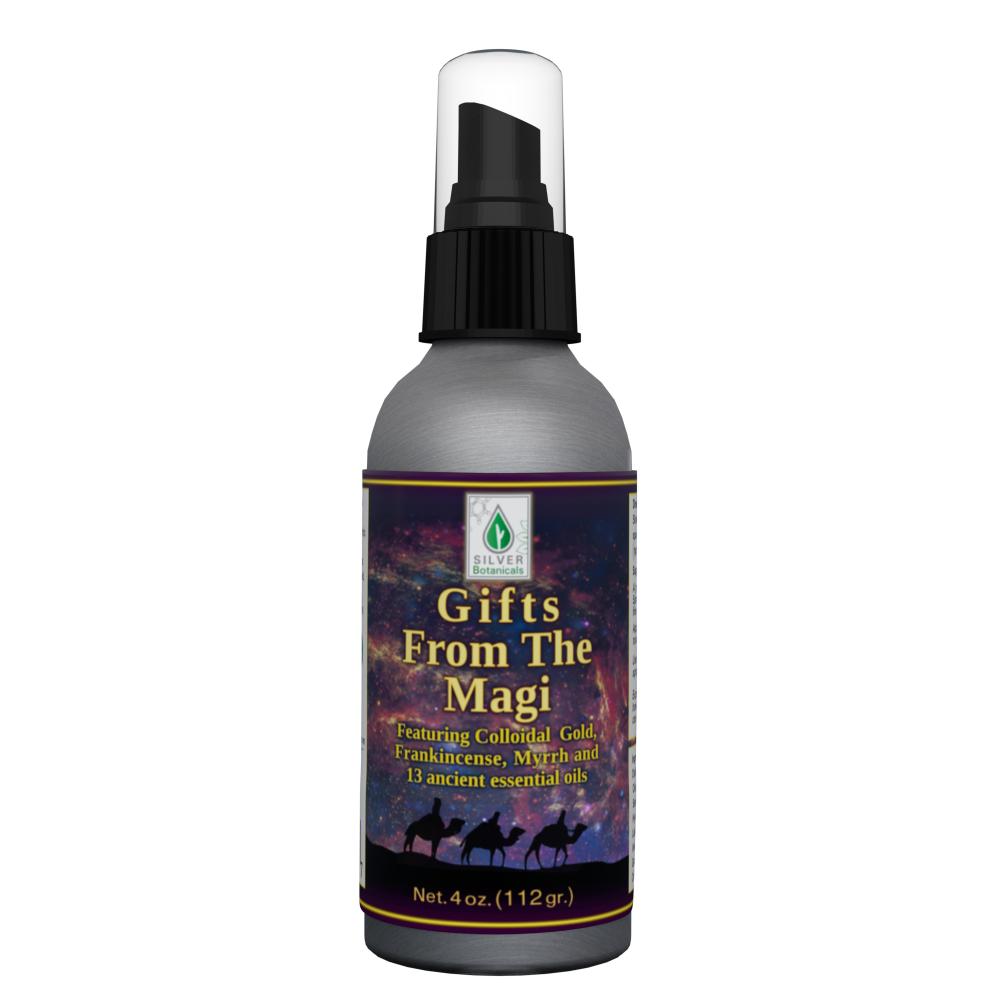 Gifts From The Magi 4oz. with Fine-mist Sprayer
Available in:
4 oz. bottle w/ fine-mist sprayer ($11.99)
Turn on Javascript!
A sensual experience of highly prized, ancient essential oils & colloidal gold

Since ancient times, mankind has prized a select few materials. Notable examples of such materials include gold & essential oils. Gold, well it's money, and man has always sought wealth. It was also believe to be imbued with special properties beyond those of its amazing physical and chemical properties we know today. Essential oils, however, were treasured for their medicinal value and ability to elevate environments and individuals with their mood-altering, exotic scents. Pharaohs of ancient Egypt where buried with literally tons of gold and essential oils. The most famous story illustrating the historical status of these materials is written in the Bible. Where it is told of "Magi from the east" bringing gifts of Gold, Frankincense, and Myrrh to the newborn Jesus. Whether or not the Frankincense & Myrrh were in the form of an essential oil can be debated. What is not debated is the importance of these essential oils to the people of antiquity.
Gifts From the Magi is an unique formulation that contains an olfactory-charming blend of Frankincense, Myrrh and 13 other ancient essential oils along with true, colloidal gold. Literally trillions of tiny gold particles and an explosion of scents are released in every spray. Gifts From the Magi allows you to connect with the past in a unique and powerful way by experiencing the authentic sensations of these most treasured materials of antiquity whose benefits are yet to be fully discovered. An all-natural, alternative to synthetic fragrances, air-fresheners, and body sprays with countless of inspired uses.
Made with prayer, hope, and gratitude; our hope is that Gift of the Magi may inspire moments of insight, imagination and self-reflection as to life, its mysteries, and our role in it.
Suggested Use
Mist yourself anytime, anywhere. Great for massage, spas, yoga, meditation, after a long days work. Use this mist in every room of your home, in your car, at the office, hotel, nursing homes, or hospital rooms. Does not stain clothes. Try it on your linens. Lightly mist pillow before sleep. Great atmosphere preparation before the arrival of guests. Use on hands and body to relieve dry skin and provide moisture to your skin. Great deodorizer for the bathroom.
Directions
Shake well before use.
Mist into air and/or onto body as desired (typically 5-10 sprays).
Relax and enjoy.
Note: Avoid spraying in eyes & on delicate furnishings.
Treasured materials from nature
Gifts From the Magi allows you to connect with the past in a unique and powerful way. Experience the authentic sensations of some of the most treasured materials of antiquity whose benefits are yet to be fully discovered.
Uses colloidal gold, frankincense and myrrh
Plus, 13 other ancient, essential oils
Safe and effective. Moisturizes the skin
100% Natural Ingredients
Vegan, gluten-free, non-GMO
Alcohol, petrochemical, & propellant free
Animal cruelty-free
No synthetic fragrances
Fine-mist sprayer with non-pressurized bottle
Brushed-metal bottle to protect contents
Gifts From The Magi FAQ
How would you describe the scent of Gifts From The Magi?
Gifts From The Magi has a complex scent that will stimulate your senses and imagination.  It's base notes smell of fragrant wood with hints of vanilla. It's middle notes have the aroma of spice and resin.  While it's high notes smell of delicate night-bloom flowers.
Why use colloidal gold in a room & body spray?
Colloidal gold is reputed to have many benefits for the skin.  Three particular benefits for which it is sought after is it's ability to sooth, de-inflame and stimulate regeneration and repair.  The exact mechanisms of these effects are not fully known.  Although, it is believed, in part, to be due to gold's electrical / conductive properties.
What does the name Gifts From The Magi mean - who were the Magi?
The Magi, widely known as The Three Wise Men, brought gifts of gold, frankincense and myrrh to the newborn Jesus Christ.  What is it that makes gold, frankincense and myrrh so special?  The answer is still somewhat a mystery, but it's well known that these materials are indeed special and precious.  Gifts From The Magi gives you an experience of the ancient world with colloidal gold, frankincense and myrrh, plus other essential oils of the ancient world--some of natures most precious ingredients.
Why frankincense gold and myrrh?
We bring these ingredients together because they are unique and special with incredible properties.
Frankincense is referred to over 52 times in the Bible.  It's been found to stimulate the limbic system in the brain (the center of memory and emotions).  It's reputed benefits are broad and astounding--both physical and mental.  It is one of the most highly sought essential oils for it's healing properties.
Myrrh, noted in one of the oldest known medical texts, the Ebers Papyrus (dating back to 16th century BC).  A powerful antioxidant and skin tonic. It's reputed benefits are also broad and astounding--both mental and physical.  It is one of the most highly sought essential oil.
Gold is a very curious element.  It's rarity throughout the universe is due to the nature of how it is produced--by a supernova's explosion (stars at least ten times the size of our own sun)!  This element is created just before and during the explosion of a supernova from shear force (fusion of lighter elements).  It's properties for health are wide and interesting. None the least to mention is it's mental effects, reputed to enhance IQ in repeated studies.
What is colloidal gold?
Colloidal gold (also called nanogold) is nano-sized particles of gold suspended in water.  In this way, it is just like colloidal silver.  Although, colloidal gold has very different properties and benefits.
Can I spray my bed and pillow with Gifts From The Magi before bedtime?
Yes, it's provides a very pleasant and soothing scent as you drift off to sleep.  It is also safe on linens and does not stain.
Is Gifts From The Magi good for the skin?
In a simple answer, yes!  Gifts From The Magi contains many essential oils reputed to benefit the skin.  These benefits are broad and varied, far beyond what could be written here.  We recommend a journey in researching each of these amazing essential oils on the Internet, or from the many great books upon this subject.  We're confident you'll be amazed!
What mood is inspired by Gift From The Magi?
Gifts From The Magi, with it's complex and rich scent, will stimulate the mood and imagination of each person differently.  Although, if we could describe it in simple terms, we might say that it elevates the soul and it soothes and focuses the mind.