Silver Shield Deodorant
All-Natural, Aluminum-Free, All-Day Effectiveness
Sensitive Skin
Play With Confidence
Keeps You Rrunning All Day long
New Roll-on Bottle for 2021
New Rollerball for 2021
Refilling is easy and economical!
SDD Families with Shields.png
Sensitive Skin
Play With Confidence
Keeps You Rrunning All Day long
New Roll-on Bottle for 2021
New Rollerball for 2021
Refilling is easy and economical!
SDD Families with Shields.png
Available in 3 different formulas with 3 different applicators
Originals Formula
Sensitive Skin Formula
Sensitive Skin, Floral Scent
Roll-on, 2oz.
Spray-on, 2oz.
2X Refill, 4oz.
Turn on Javascript!
Key properties overview
Long Lasting
Silver Shield Deodorant is an extremely effective, all-day-long protection, underarm deodorant. It has even been shown to last multiple days when skipping showers.

Excellent Deodorizing Ability
Silver Shield Deodorant is highly effective at eliminating underarm odor--knocking it out on contact. It keeps you odor free, even under high stress and physical exertion.
Non-toxic
Silver Shield Deodorant was formulated from the very beginning with the goal of being non-toxic. It is made up of high quality, all-natural, food-grade ingredients. It is neither harmful to your body, or the environment.
Great Moisture Control
Silver Shield provides a mild antiperspirant effect without blocking your sweat glands and pores. Silver Shield uses a special blend of essential oils to help reduce perspiration. It also lays down a satin-like matrix that absorbs moisture, leaving you feeling dry and comfortable.
Fresh, Natural Scent

The scents of all Silver Shield Deodorant formulas (Original, Sensitive Skin & Floral Scent Sensitive Skin) were developed to provide a fragrance agreeable to both men and women. Silver Shield's scent does not linger, as it's not a perfume, nor does it contain any synthetic "fragrances."
Non-irritating
Silver Shield Deodorant is non-irritating for most skin types. However, for those individuals with various skin sensitivities we have developed two sensitive skin formulas to accommodate: Sensitive Skin & Floral Scent Sensitive Skin. Both are milder versions of our Original formula.

Great Economy

Despite Silver Shield's higher price, compared to conventional supermarket brands, it offers great economy! A single 2oz bottle of Silver Shield Deodorant Roll-on typically offers better than 2 months of use. Furthermore, Silver Shield Deodorant is refillable making for even greater savings and economy.

Refillable
Don't throw away that bottle! Silver Shield Deodorants are refillable! We currently offer 2X Refills in the formula of your choice, which will refill your 2oz Silver Shield Deodorant bottle (Roll-on, or Spray-on) twice. In the future we plan to offer more refill options for even greater savings and economy.
Excellent performance, all-natural, and non-toxic.
Silver Shield Deodorant is specially formulated to provide long-lasting odor protection, naturally control moisture and support healthy underarm skin. Made from safe and effective, high quality, all-natural ingredients.
Aluminium-free
Petro-chemical free
Made with true colloidal nanosilver
Made with 100% pure essential oils
Provides all-day protection against odor
Refillable applicators for many reuses
BPA-free bottle

Roll-on: #5 & #4 plastics
Spray-on: #1 plastic
Silver Shield Deodorant
'Wow-factor' Effectiveness.

One try and you'll agree, or your money back.
Formulas & Ingredients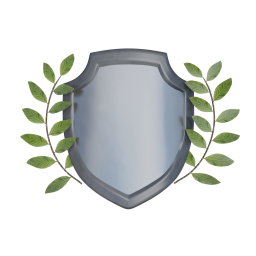 Original Formula
Our Original Formula is our strongest and most effective deodorant formula. It has a blend of 12 pure essential oils which were chosen for their antibacterial, skin-nourishing, deodorizing, sweat-reducing, and detoxifying properties. This oil blend along with true colloidal nanosilver, and other all-natural ingredients, provides for a multifaceted, synergistic solution for all-day odor protection. The Original Formula is also effective at eliminating existing odor and providing mild moisture control. It has a pleasant, herbal scent that typically dissipates within minutes after application. Note: we have found that approximately 5% of our customers find this formula a bit irritating. If you experience irritation with the Original Formula, please try one of our Sensitive Skin Formula.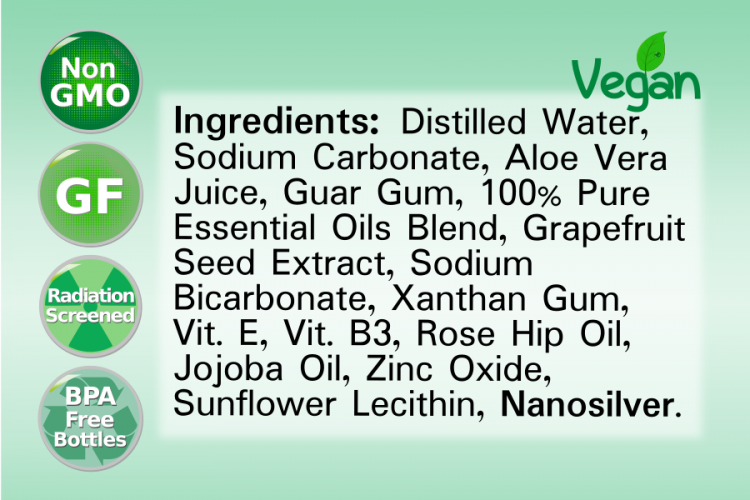 Silver Shield Deodorant - Orginal Formula Ingredients
Sensitive Skin Formula
Our Sensitive Skin Formula was developed for our customers who may find our Original Formula a bit irritating. This formula's milder properties (with respect to the Original Formula) are due to a reduction in the essential oil blend concentration, the removal of some of the potentially irritating oils found in the original formula (e.g. cedarwood & bay oil), and a reduction in its alkalinity. Currently, this formula is our most lightly scented formula and the scent typically dissipates within minutes after application. Our sensitive skin formulas are initially recommended for individuals who shave under the arms and/or are transitioning from aluminum-based/conventional antiperspirants/deodorants.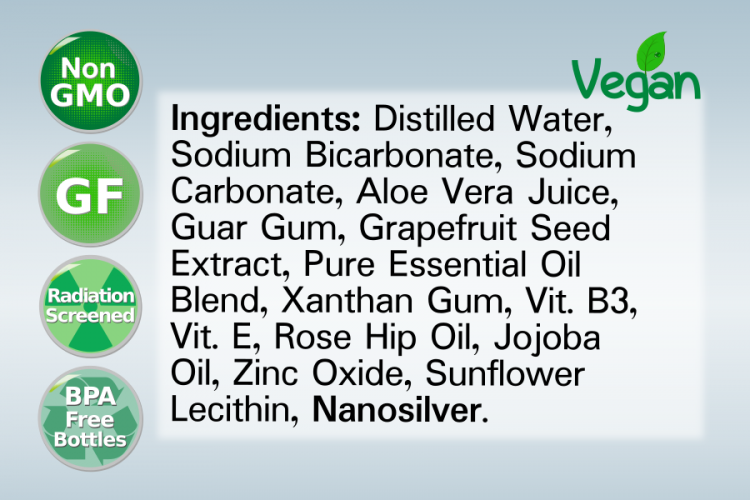 Silver Shield Deodorant - Sensitive Skin Formula Ingredients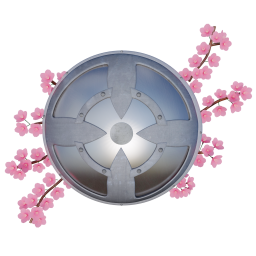 Floral Sensitive Skin Formula
Our Sensitive Skin Floral Formula is a variation of our Sensitive Skin Formula. We've added essential oils of Jasmine and Ylang Ylang to provide a wonderfully light floral scent. Jasmine and Ylang Ylang have been treasured for centuries, reputed to enhance spiritual attunement, combat anger, filter negative thoughts, uplift and emotionally balance. As with all of our deodorant formulas, the scent dissipates within minutes after application as there are no perfume fragrances added. Our sensitive skin formulas are initially recommended for individuals who shave under the arms and/or are transitioning from aluminum-based/conventional antiperspirants/deodorants.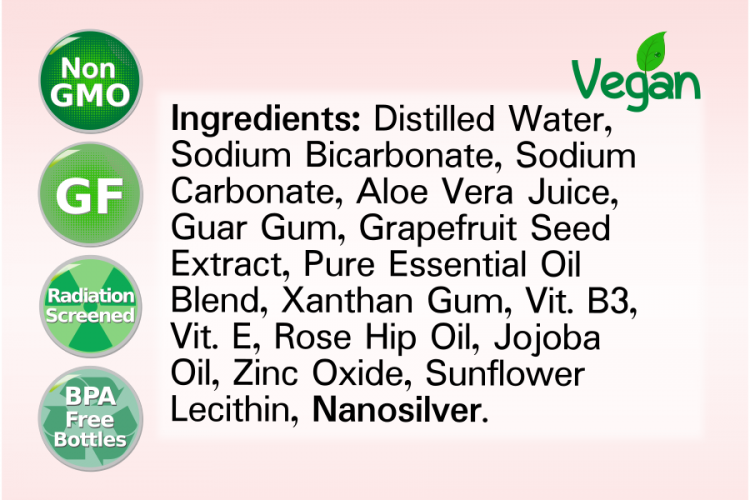 ---
About Our Ingredients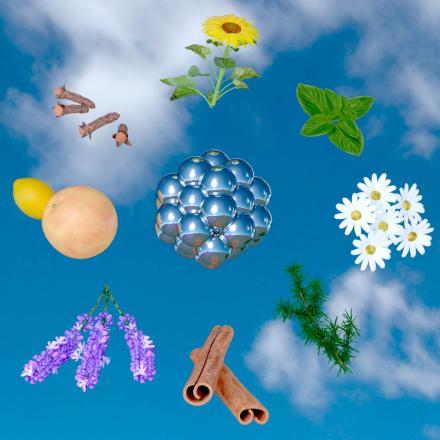 About Our Quality Standards
---
Silver Botanicals' products contain high quality (food grade or better), all-natural, known-to-be safe (GRAS) ingredients. We never use synthetic ingredients. This includes GMOs, petrochemicals, or highly-processed ingredients. We formulate and manufacture our products in our manufacturing facility and never contract out our production to third-party manufacturers. We use distilled water, free of virtually any contaminants found in the typical "purified municipal water" used by most manufacturers. We do not conduct animal testing, or outsource any such tests (our products are "cruelty free").

We're more than happy to answer any specific questions. Feel free to contact us!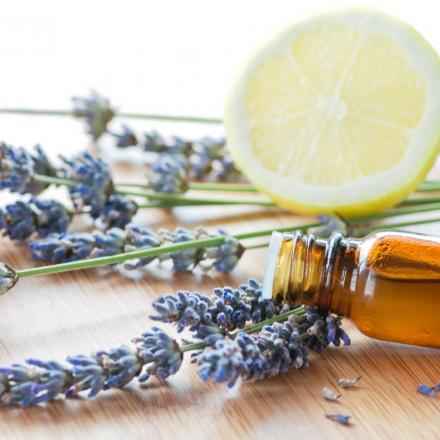 About Our Essential Oils
---
At Silver Botanicals we use pure, unadulterated, high quality, essential oils. This means that nothing has been added and nothing has been taken away. Our oils are mostly steam distilled, with a few oils that are absolutes, cold-pressed, or extracts. Our oils are organic and/or wildcrafted whenever possible. Our oils are selected with respect to their native regions of the world which impart their respective therapeutic value and potency.
Would you like to know more about essential oils?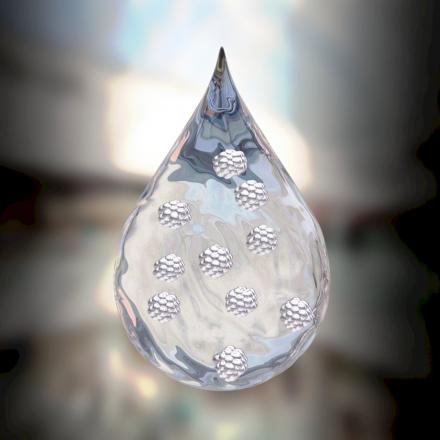 About Our Colloidal Silver
---
At Silver Botanicals we use true colloidal silver. We source our colloidal silver from a premium manufacturer whose end product is a refined nanosilver concentration suspended in distilled water. Our silver particles contain, on average, around 30 atoms (~0.65 nanometers in diameter). Our products contain between 10-30 ppm of nanosilver. Both particle size and concentration (ppm) are ideal for our products' intended use.
Would you like to know more about colloidal silver?
Your First Silver Shield Deodorant
We know our natural deodorant customers are sensitive about trying new body care products. We acknowledge and appreciate the fact that you are trying our product. We make every effort to ensure that our customers feel confident about their purchase and are diligent in addressing any questions and concerns you may have. Some individuals switching to natural products should expect to experience a period of detoxification when trying our deodorants for the first time. It is necessary for the old, toxic buildup of chemical products left behind in your system to be released through the pores, which may lead to temporary increase in underarm odor. This is natural. After a short period (a week or two) our deodorant should start keeping you smelling fresh and protected all day long.
Natural Deodorant Detoxification
Antiperspirants work in different ways. Some work by shrinking sweat glands, others work by clogging or shrinking the pores in your underarms. Many studies have shown that the aluminum compounds in conventional antiperspirants are not healthy, because they do not allow sweat glands to release necessary toxins. During detox some people get rashes, itchiness and discoloration. Hang in there. Also your lifestyle will affect how your body reacts and detoxes. If you are a smoker, eat spicy, packaged, or processed foods, or drink lots of soda or coffee it may take longer to detoxify. It will get better! Remember, always try a new deodorant product for a week or two before
you decide if it is good for you. If you've been using an antiperspirant, there is a build-up of dead skin cells and chemical residue under your arms. Before your shower, dry-brush your underarm skin to loosen any buildup and to gently increase circulation. In the shower, use an exfoliating bath mitt on your underarms. Do things to perspire! This will help get your sweat glands to function properly. You may notice your underarm sweat being a little thick. This is because the sweat glands in your armpits are different from others on your body. These glands excrete amino acids. Your glands haven't been able to excrete these amino acids for a while, so there may be a buildup of mucous being released. Wear natural fibers to help the sweat evaporate! Hydrate yourself. If you really want to look after your health then doing things differently, finding a new path is often the way.
Underarm products matter

Silver Shield Deodorant FAQ
Will Silver Shield Deodorant stain my clothing?
No, Silver Shield Deodorant is non-staining and fully biodegradable. Its ingredients contain no dyes, or compounds that will harm your clothing or household fabrics.
How do you apply Silver Shield Deodorant?
The deodorant is in a liquid state and is applied using our roll-on or spray bottle. The application should only feel wet for a few moments before evaporation begins. If wetness continues, then you are most likely applying more deodorant than is needed.
Does Silver Shield Deodorant sting?
Our original Silver Shield Deodorant can sting individuals who have just shaved their underarms or those who have sensitive skin. We recommend waiting at least a couple hours before applying the deodorant after shaving.  For those whose sensitive skin is irritated by our original formula, please try one of our two sensitive skin formulas.  Our sensitive skin formulations have a reduced alkalinity and essential oil concentration.  We have also removed some particular essential oils that are known to irritate some individuals.
Do you have a scentless version of your Silver Shield Deodorant?
Currently we do not have a scentless deodorant. However, our Silver Shield Deodorant - Sensitive Skin version has our mildest scent. We plan on developing a scentless version in the near future.
Is Silver Shield Deodorant an antiperspirant?
Silver Shield Deodorant is not an antiperspirant, per se, as it does not block pores -- which is the case with conventional antiperspirants through the employment of aluminum -- to reduce sweating. However, it does have a mild antiperspirant effect due to some essential oils that reduce pore size, plus moisture absorbing materials in the deodorant.
Will Silver Shield Deodorant work on existing odors?
Yes. Silver Shield Deodorant has an excellent ability to eliminate existing odors. Furthermore, when the deodorant is applied to existing odors it attacks the bacteria that produces them. In a way, it's almost as good as a shower.
How do I refill my roll-on bottle?
We have complete instructions on how to refill your Silver Shield Deodorant here.
How much deodorant should I apply?
Initially, you should apply enough deodorant to wet your entire underarm (usually around 3-5 stokes per arm). Deodorant should dry within 1-2 minutes. More or less can be used to meet your needs.
Is it easy to travel with Silver Shield Deororant?
Yes, Silver Shield Deodorant comes a size that is allowed on planes. However, it is important that the lid is tightly sealed. Try to store the deodorant in an upright position whenever posible as deodorant may leak out if lid is not tightened securely.
How long can I expect a bottle to last?
Typically, our 2-ounce bottles (roll-on or spray) contain enough deodorant for two months with daily use.
Why is Silver Shield Deodorant more expensive than my old, conventional deodorant?
Silver Shield Deodorant's price can be explained with one word: quality. We use ingredients that combine the marvels of mordern nano-technology with the wisdom of ancient therapeutic compounds. Along with other 100% natural ingredients, our formulation can not compete pricewise against petrochemicals & synthetics used in conventional deodorants. The differences are important, particularly when talking about a product that you apply daily. Silver Botanicals will continue to develop resources on our website to help individuals understand the importances of these differences when it come to your health.
On occasion, my roller can be difficult to roll, what should I do?
Hold the rollerball under warm flowing water and roll the ball with your hand to remove any solidified deodorant. This should remedy the problem. If the problem occurs on wet skin (after a shower) you should try to apply the deodorant after drying off, as dryer skin improves the efficiency of the applicator.
Does Silver Shield Deodorant contain any trace pesticides?
No, Silver Shield Deodorant's ingredients have been sourced from supplier who verify the absence of pesticides or other synthetic, agricultural residues.
How does colloidal nanosilver & essential oils help prevent me from smelling?
Colloidal nanosilver & select-essential oils are extremely powerful antimicrobial agents. They have been shown to effectively kill bacteria, fungus, molds, & viruses. Bacteria is primarily responsible for body odor. As these microbes metabolize the oils, proteins, and other organic compounds found in sweat, they release the malodorous compounds. Control the bacteria and you control the bad odors, leaving your natural scent which most people really like! Your natural scent is primarily a function of what you eat, so the better you eat the better you'll smell.
How long does the scent of Silver Botanicals' deodorants persist after applying?
Silver Shield Deodorants' scents are not intended to persist for an extended period of time. Typically, the scent is reduced to extremely low levels after 5 minutes. However, some of the base notes of the scent may persist for longer periods of time. These scents are undetectable during casual interactions with others.
My sprayer is clogged and does not spray. What's can I do?
If your sprayer clogs there are a few thing you can do to remedy it.
First, attempt to unclog it with these steps:

Unscrew sprayer from your Silver Shield Deodorant bottle and rinse over warm water.
Take a cup of warm water and submerge the sprayer, head-down, and let it soak for a few minutes.
Use the same cup of warm water--which you might need to refresh if it's gone cold--and submerge the stem (the end where liquid is drawn from).
Finally, gently pump the sprayer and allow warm water to pass through the nozzle until full spray-misting is observed.
Once you've restored normal spray-action, you're ready to reassemble and use your Silver Shield Deodorant again.

If at first this doesn't work, try to submerge your sprayer for a longer period of time. Hot water is fine to use as well.
If all else fails, we'll gladly send you a new sprayer. Simply contact us at 855-452-8847 or use our contact page.
Silver Shield Deodorant is Refillable!
It's economical, it's ecological and it's easy.
Silver Botanicals currently offers 2X Refills (4 oz) of our Silver Shield Deodorant. Our 2X Refills will refill your 2oz Silver Shield Deodorant, Roll-on or Spray-on, twice from a single refill bottle.
See our complete instructions on how to refill your Silver Shield Deodorant.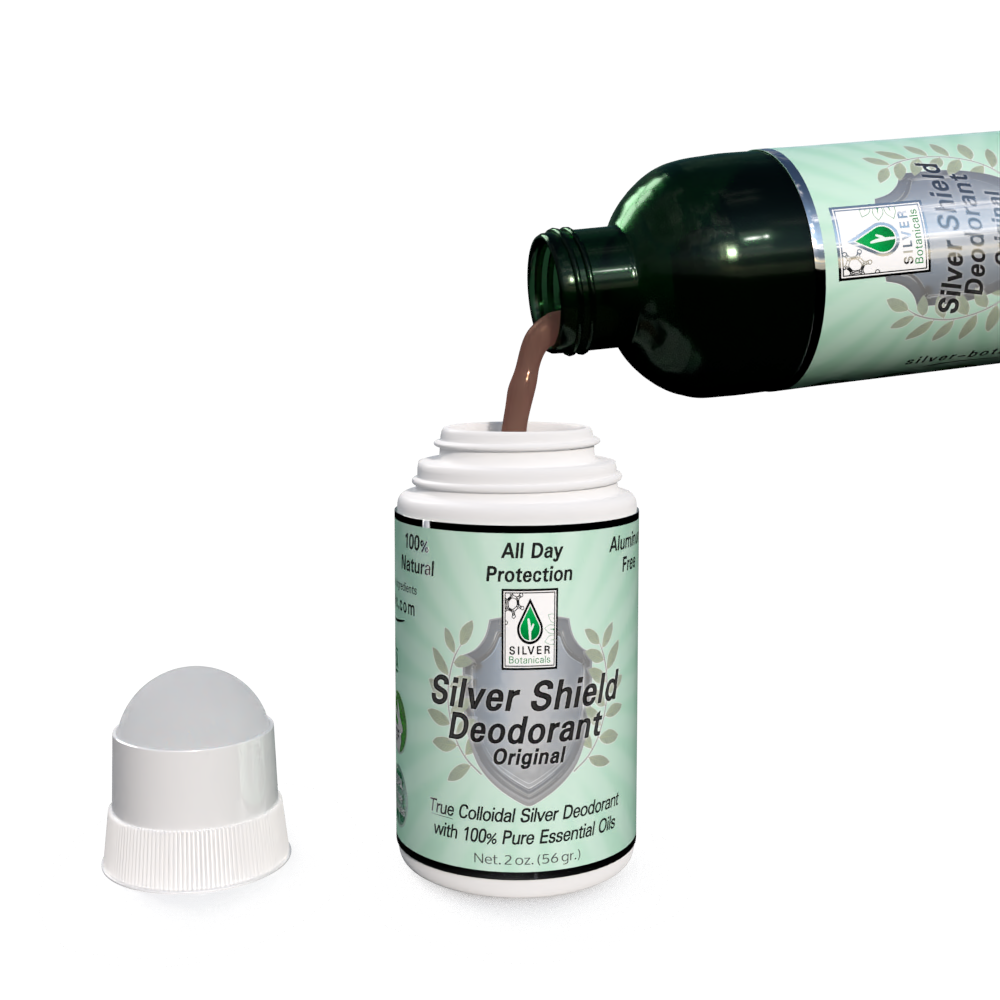 Silver Shield Deodorant testimonials
I tell you honestly it is bar none the best product I have ever used. After one week I am completely sold and can't wait to try your other products. Nothing else I have ever used has been truely 100% effective. Thankfully my daughter told me about Silver Shield. I had spent hours on the internet researching ways to stop underarm odor to no avail. I have never been able to wear sleeveless blouses or anything but cotton and have sometimes had to shower 3 times a day. I even buy two of the same blouse so that I may change at noon while at work. This entire week I have spent in sleeveless blouses, in over 90 degree weather, working in the garden or mowing and I do not have any odor. The true test was a weekend at grandpas house with stress and heat. This may sound overboard to you but believe me it is not. My life has been changed. Finally after 54 years I don't have to worry about standing away from people or not giving out hugs because I thought I might offend someone. My deepest thanks,

- Cheryl (Email comment)

---

I picked up a free sample many months ago at a farmers market in so. Austin, and just tried it out recently. I have been in chemo on/off for 1.5 years (breast cancer), so waited to try it. Not only did it work well, but I had no reaction, as I usually do ... Love & blessings to you for making such a wonderful product!


- Mariah (Email comment)

---

Awesome stuff
I was at some sort of street fair in Austin when I came across the Silver Botanicals booth. The guy running it gave me a sample of this stuff and it works VERY well and smells nice. I am pretty much allergic to every chemical scent so finding toiletries that work well without giving me a rash ... is often a challenge. Bear in mind that "2X" in the description does NOT mean that you receive two 4-oz bottles -- you only get one. The 2X refers to the size of the refill (4 ounces) compared to the original product (2 ounces). Still, I think it's well worth the cost.

- Dani McDowell (Amazon review)

---

Just what I was looking for
Having read that 99% of women with breast cancer have chemicals in their breast tissue from deodorants I went looking for a better deodorant for my teenage daughter. I use Nivea for Men, Silver Protect (also found here on Amazon) so wanted to find something similar for her. This product fits the bill and then some. Not only do they have three choices for fragrance but you can also purchase refills - economical and environmentally friendly - and made right here in Texas, wahoo! She's happy and I'm happy to get her away from the concoction of chemicals found in most deodorants.

- Frank Lakeman "CanIbeFrank" (Amazon review)

---

Best All Natural Deodorant Ever!!!!
As many of my close intimate friends know I kicked traditional deodorant/antipersperants to the curb six years ago, but battled finding an all natural product that worked as well as the chemical infused products do at controlling odor. Well I am here to endorse the best all natural product I've ever found and I've tried them all. Best of all, this will-on is refillable, so you can be a supporter of green initiatives too!

- LovelyLynn (Amazon review)

---

Finally something that I human can wear.
I remember a day when all my white shirts didn't get yellow pit stains. I have tried countless deodorants, they all cause these stains and have various other issues, such as white powder, burn my skin, what's with all the floral odors? I just want a deodorant that works, doesn't have an odor, and works through out the day. I've finally found it and and I'm a customer for life. I work for a living and sweat, trust me, the product works.

- SevenStepsToHeaven (Amazon review)

---

Best deodorant ever!
I am a very active person -- I dance, do yard work, play roller derby, skate recreationally, etc. Also, I'm allergic to pretty much all fragrances, as well as a bunch of other chemicals that are often found in beauty / skin care products. And if you've ever had allergies to the ingredients in deodorant, you know how itchy and irritated your pits can get. So if I'm exercising, my options are to just be stinky, use one of those natural crystal things and be only "kinda stinky," or to use irritating typical-ingredient deodorant and not stink but be SUPER ITCHY. One day I was skating around some sort of street fair thing in Austin and came across a booth hosted by the nice people at Silver Botanicals. I did not buy the deodorant then, because I'm allergic to everything and figured I'd be allergic to this as well, but they gave me a sample of the sensitive skin formula. A few days ago I was at roller derby practice, and I applied the silver deodorant sample after about an hour of a particularly grueling practice (AFTER I was already good and stinky). Not only did it make the existing stink vanish, it prevented me from being stinky for the rest of the night. This stuff is freakin' magic -- even super harsh ingredient deodorants don't work as well. Anyway, no irritation from the silver deodorant, and I'm buying a lifetime supply right now. Super happy to have found a deodorant that works so well.

- Dani McDowell (Amazon review)

---

Great Product - Highly Recommend
I've typically used deodorants that contained aluminum, but with the studies linking aluminum to various health problems, it is nice to find a product that is safe and WORKS. I've been using this product for about 4 months and swear by it. I have sensitive skin and this product has not caused any irritation. I've recommended this to a few of my family members who are enjoying it as well. I highly recommend this product.

- Brett Ritter (Amazon review)

---

This is AWESOME!!!
I have tried MANY products including Tom's of Maine to help control my odor problem and FINALLY I've found a product that works. I use Colloidal Silver for many other things but for deodorant? WOW! this stuff really works. Even after working out I'm not as stinky as I am when using other products. This is a MUST for your medicine cabinet. It's all natural and will eliminate the odors. Thank you Silver Botanicals for making this product.

- Anonymous Amazon Customer (Amazon review)

---

By far the best natural deodorant I've ever used
I'll weigh in with all of the others who've given this product 5 stars. I have been buying and making (or trying to make) all manner of natural deodorant for years. None of them have worked! This product is amazing. No odor, no chaffing, no shirt stains...and no B.O. Strong 5 stars!

- Gerald Stapleton "turandot" (Amazon review)

---

Where have you been all my life?
I have been in search of a natural deodorant for years and then I found silver botanicals. I admit I was skeptical until I tried it and I haven't looked back since. I have sensitive skin so I use the floral one and it works so well. I live in texas and I unfortunately sweat like a stuck pig but this deodorant keeps up with me. I do have to reapply if I am outside for a long time but that is a small price to pay for such an amazing product. The best part about it is your can reapply as many times as you want with no ill effects and it completely erases all smell! If you like to use natural deodorant look no further because this is the best product on the market!

- SuzFleeg (Amazon review)

---

The Silver Shields aluminum free anti-perspirant works GREAT
5years ago I developed a sensitivity to common anti-perspirants. After a visit to the doctor I was informed I have an allergy to commercial aluminum products. My doctor recommended a stone type natural product that you add water to but I wasn't too pleased because I would still smell sweaty. Furthermore I'm also now well aware of the potential for aluminum products to clog your sweat glands and other harmful side effects.

I have been using this product for three months now and have been very happy with the performance. It dries quickly and I don't smell when I go into the office after working out in the gym. I also like the eco-friendly concept of the refillable container.

Thanks to the makers of this product!

- Brent in La Jolla and Austin (Amazon review)

---

Simply Superior!!!
The product is awesome! I've being using it over a year and I cannot imagine even using anything else! I get sweaty riding my Harley in these scorching Arizona summers, but I don't smell. In fact, I'll go for a bike ride to the gym, workout for 90 minutes, skip the shower since I'm going right back in the heat, and Silver Shield Deodorant prevents my manly odors! Don't look back! This is the one. They make a mouthwash too, and it's also awesome!!!

- Chile Joe (Amazon review)

---

Great product.
I've been using this deodorant for several months. It may cost a tad more than the typical roll-on, but it has saved me hundreds of dollars in clothing that used to get awful stains from the aluminum based ones. No more. Plus it works great and has a neutral scent that I prefer over the synthetic fragrance compounded into most deodorants. Highly recommended.

- Daryl M (Amazon review)

---

The BEST Effective and ALL natural Deodorant........
This Deodorant smells fantastic, last long, and is really all natural. It has no parabens or Aluminum which is said to cause lymphoma and even breast cancer in women. I was on the hunt for a deodorant that does not leave permanent stains on the underarm of my clothes. I narrowed it down to deodorants lacking aluminum compounds (such as aluminum zirconium tetrachlorohydrex gly and aluminum zirconium pentachlorohydrex gly) which are in almost every deodorant on the market. I tried others, including Tom's of Maine, and found them seriously lacking on effectiveness. I would have to reapply the deodorants many times through out the day. They were lacking the ability to fight odor and poor at their purpose. Then I saw Sliver Shield Deodorant I fell in love..... It eliminates the odors admirably, and no reapplication is necessary. The scent is very, very light, Also, I have not had a single underarm aluminum stain ruin any of my shirts. Thank you Silver Botanicals!!!!!!!!

- Nursing2012 (Amazon review)

---

Silver Shield Deodorant - Sensitive Skin
This Silver Shield - Sensitive Skin deodorant product is particularly great for me. I have been allergic to almost every kind of deodorant, even the nonallergy kinds. Also those deodorants do not really work. Your product works very well. Also I had a condition called hydradenitis supurativa from deodorant allergy and the doctor left big holes/scars in my underarms by using a "Derma Jet" instrument to inject antibiotics. Your product keeps those holes/scars clearned and clean.

- Jeannon Kralj (Amazon review)

---

All natural and works great
I've been using this deodorant for over a year now and I love it. It's all natural, no aluminum, and it works great. No chalky stains on my clothes. And no pools of sweat under my arms, despite the fact that it only claims to have a "mild" antiperspirant effect. In fact, it works better as an antiperspirant than some of the aluminum filled "maximum strength" antiperspirants I've used in the past.

Some people will have a tendency to over apply this deodorant. All it takes is a quick swirl under the arm and you have all day protection (or multi-day protection if you are camping and can't shower).

- W. Scott Horton (Amazon review)

---

Awesome product!!!
I absolutely love this deodorant. I was a little hesistant at first because it's a roll on and only having a mild antiperspant. But let me tell you it works! I don't have any wetness throughout the day and I don't have any foul odor after sweating. I could even skip a day and still not have any odor. I love this deodorant so much that I bought some for my mom, aunt and boyfriend. And let me tell you my boyfriend was very hesistant to try and he was pleasantly surprised by how well it works too!. Not only do we love how it keeps us dry and odor free but also the fact that we are not putting any harmful aluminum in our bodies. Great jobs silver botanicals!

- clatrice13 (Amazon review)

---

It works
Eliminates B.O. it works. Texas heat and humidity really cause us men to have odor very easily. No longer worried.

- TXMAN (Amazon review)

---

My favorite product is their Silver Shield Deodorant. It is aluminum free and unlike the drug store deodorants that I have used it is actually effective at deodorizing existing odors due to the bacteria killing properties. I also like the light herbal Lavender scent a lot!

- Tara M. (Yelp review)

---

I bought the floral deodorant at the Jonestown Festival and LOVE it!

- Sandra A. (Email comment)

---

I ran into these guys at Pecan Street Festival this year, and I am glad I did! I've been using Tom's deodorant for a while, and it just hasn't been cutting it. I listened to their pitch, tried a sample, and I was instantly sold. I've been wearing this deodorant since, and I never smell myself or sweat, or have that nasty deodorant residue under my pits like I do with other deodorants. My best friend bought this deodorant at the same time, and she has tried every single deodorant on the market (prescription, natural, you name it) and she has never had success until she bought this stuff here! I got the "Floral Scent" which smells delicious, but once I run out – I'm going to get the sensitive normal scent, because I am not a huge fan of earthy armpits.

I seemed to have only found one problem with Silver Botanicals so far – and it is the false labeling. The deodorant claims "All Day Protection." It should actually be something like "All Week Protection." I swear I put this stuff on, went four days without showering, and didn't have a stinky pit once! How is that even possible? This stuff protects your pits for more than just a day! These guys really changed my armpits' lives!

- Kaylee N. (Yelp review)

---

I'm a camper and I typically can't bath for a few days ... I'm very impressed with the Silver Botanicals deodorant. It's amazing how it keeps working for days at a time. Keep up the good work!

- Mica C. (Email comment)

---
Get a Sample Pack of Silver Shield Deodorant
Receive a sample pack of Silver Shield Deodorant (all three formulas - Original, Sensitive Skin and Floral Sensitive Skin formulas).
We're confident that Silver Shield Deodorant will work for you. Try a sample and we think you'll agree.
Once you recieve your sample pack of Silver Shield Deodorant:
Pour from the sample bottle a dime-sized amount of deodorant to the center of your palm. Then rub your palm against a single underarm. Repeat steps alternating to your opposite palm and opposite underarm. Please contact us if you have any problems.
Also, see our available Trial Sizes
Order Samples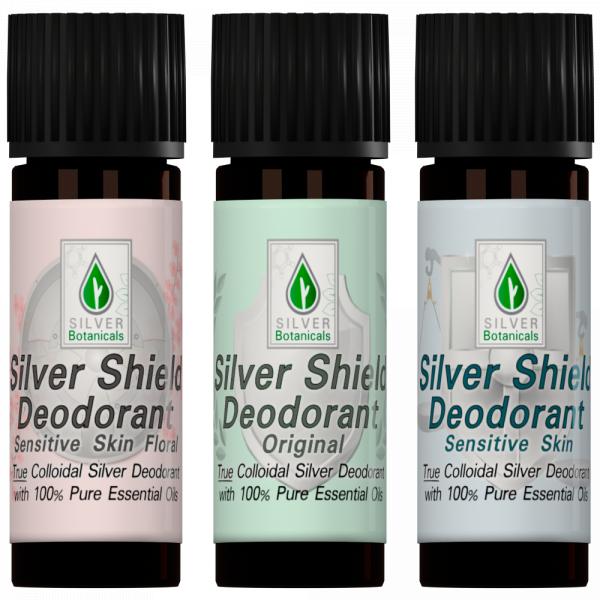 Silver Shield Deodorant Sample Pack
All three formulas ($4.50 USD)