Silver Foot Shield
Colloidal Silver & Essential Oil Foot Spray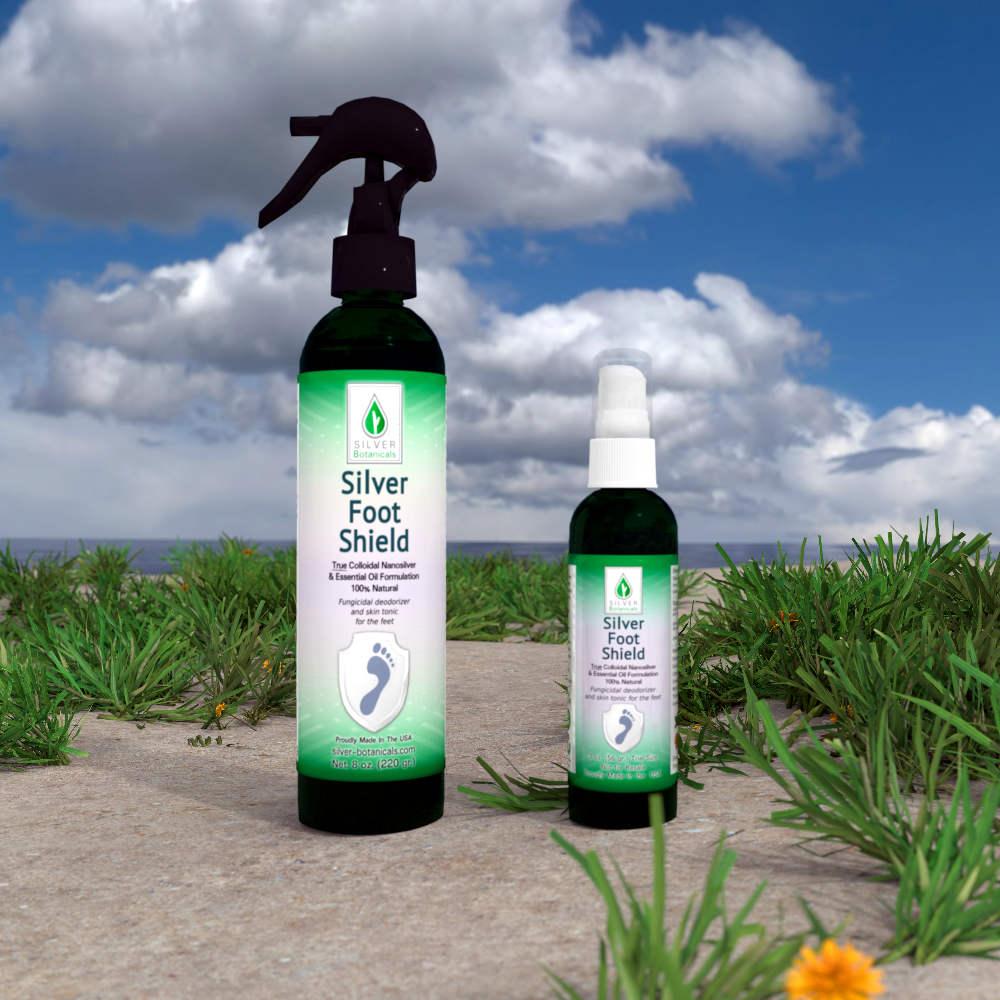 Silver Foot Shield 8oz. & 2oz. Sizes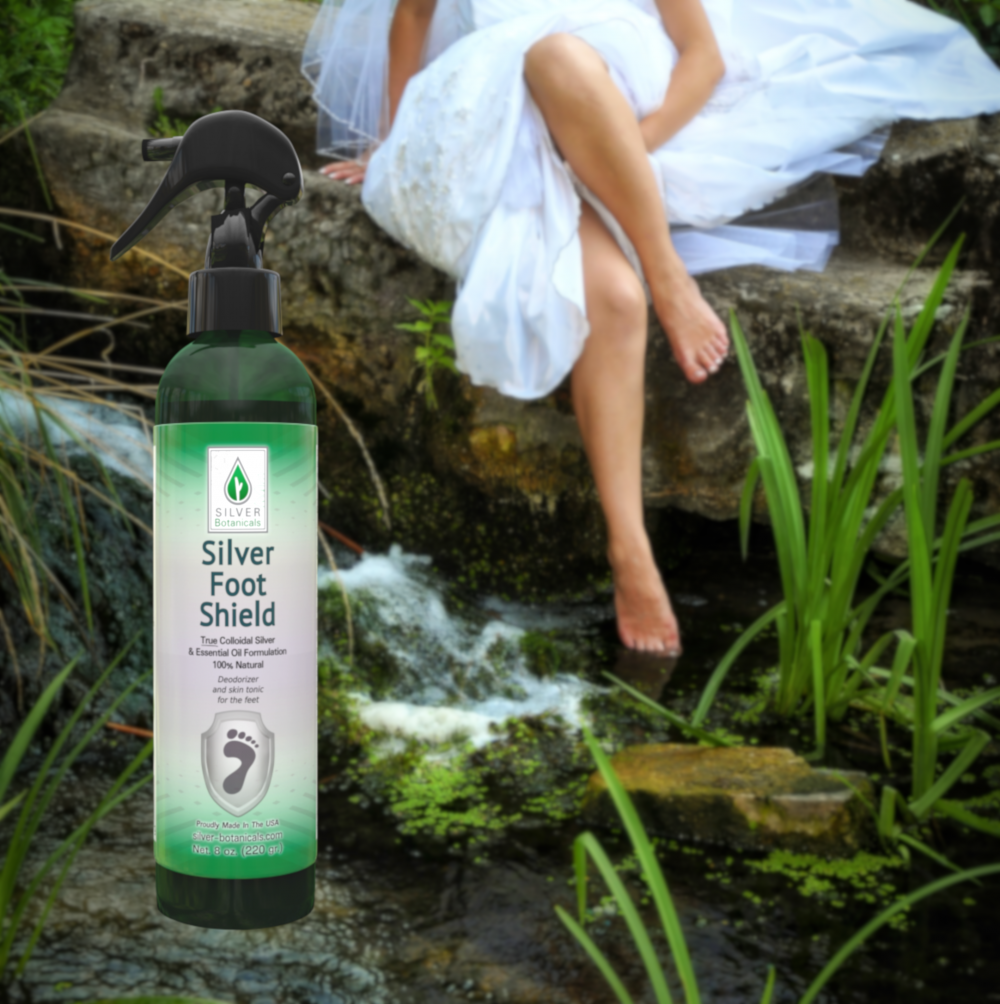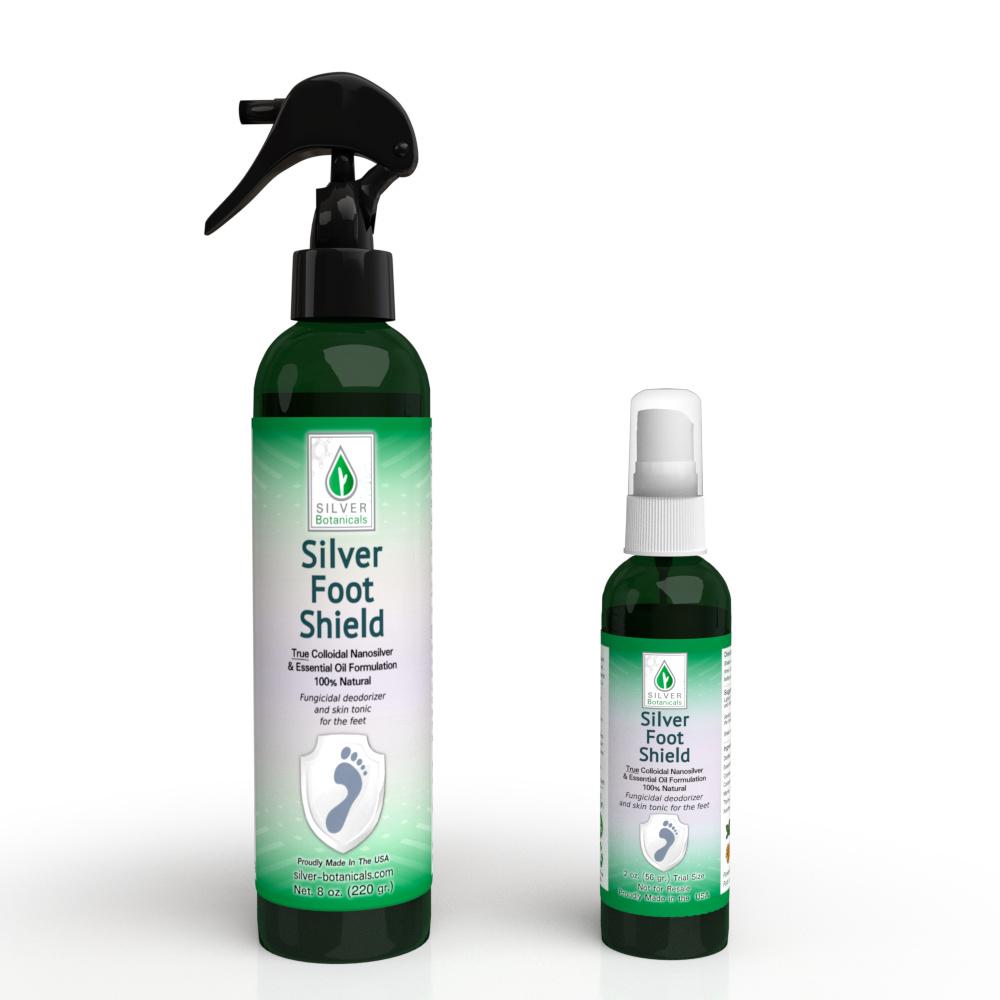 Silver Foot Shield 8oz. & 2oz.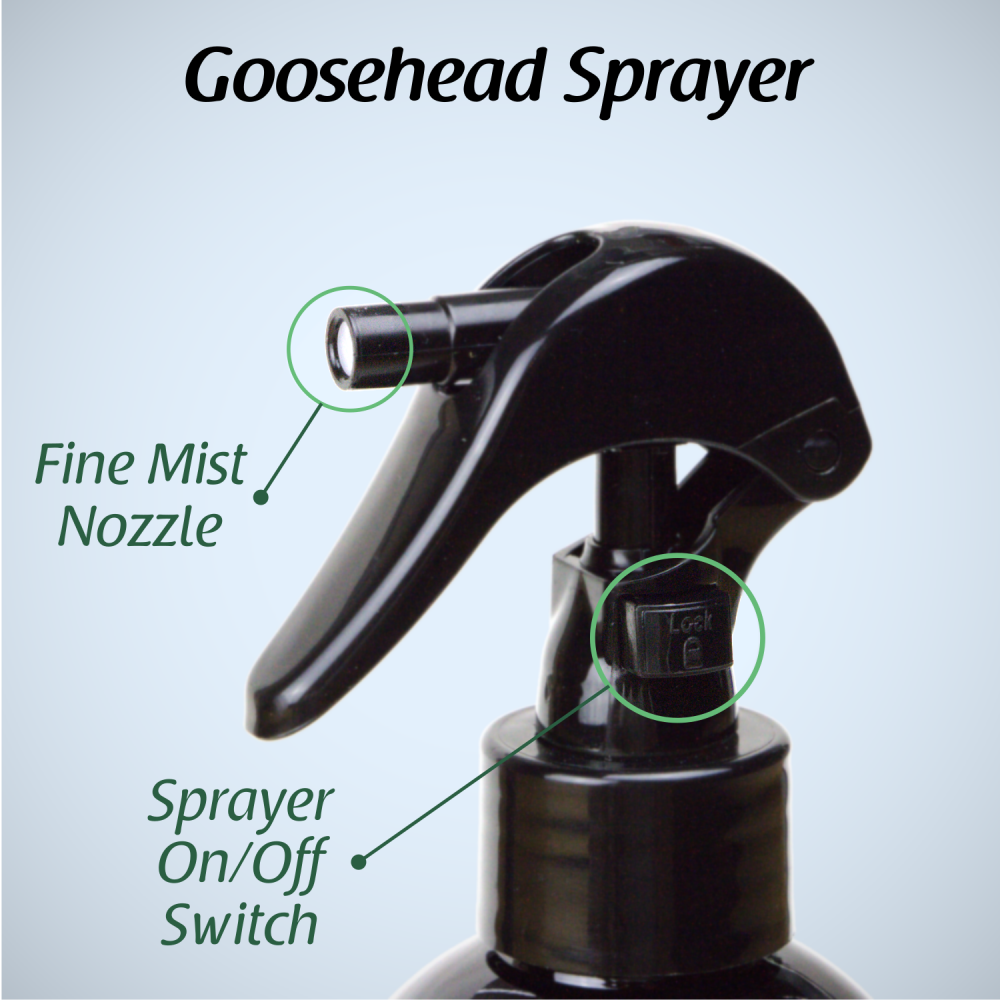 Silver Foot Shield 8oz. Fine-mist Trigger Sprayer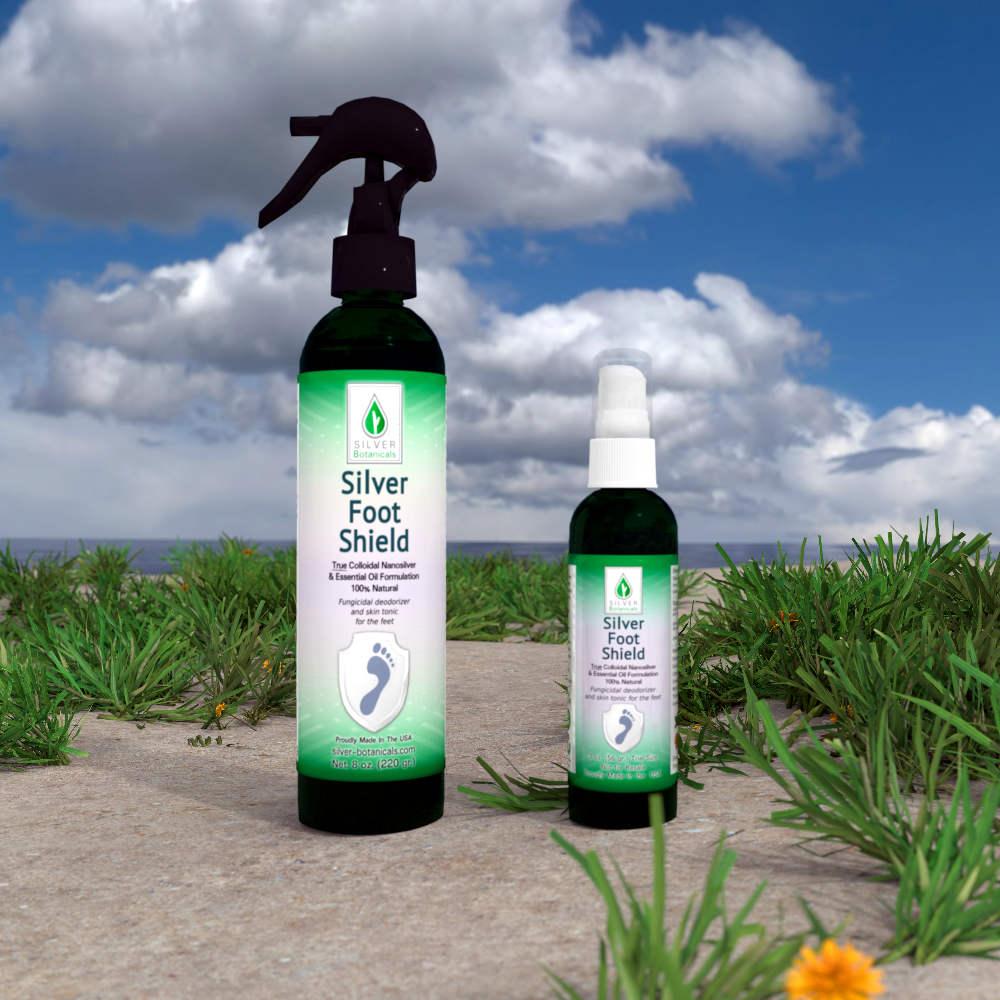 Silver Foot Shield 8oz. & 2oz. Sizes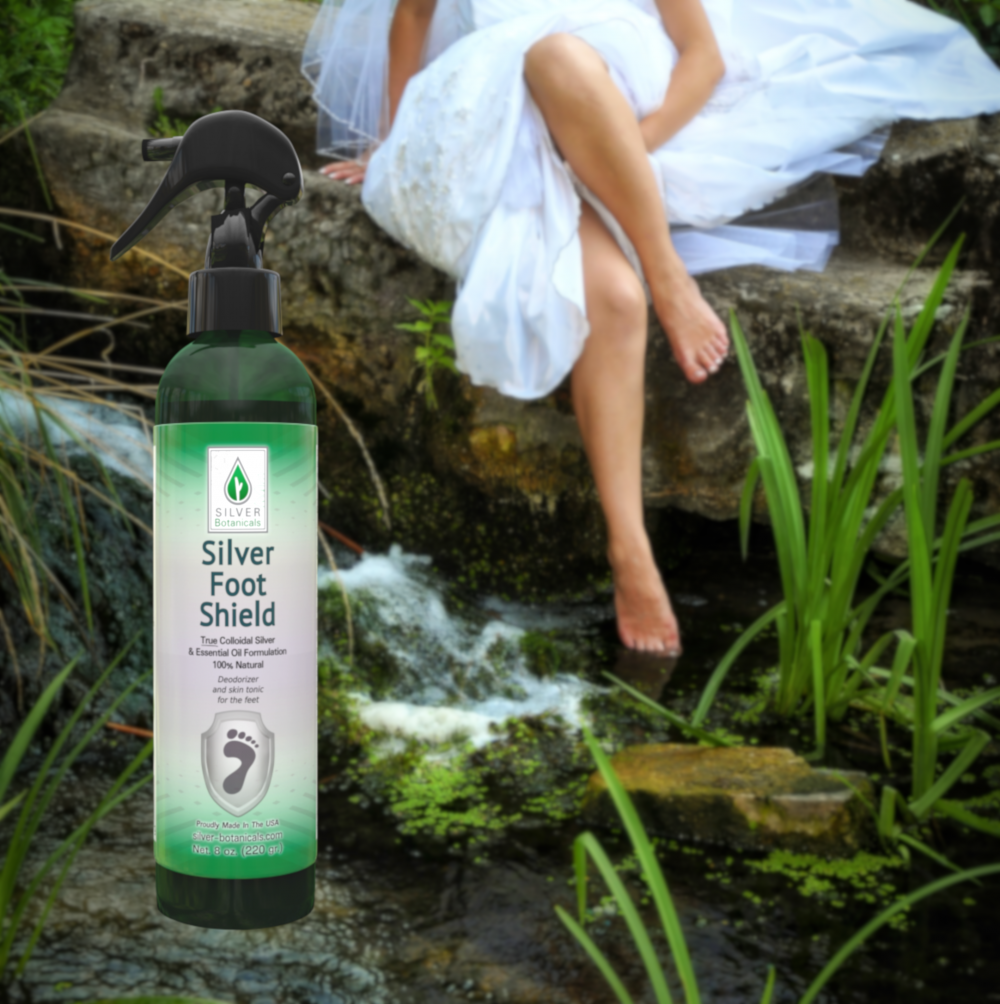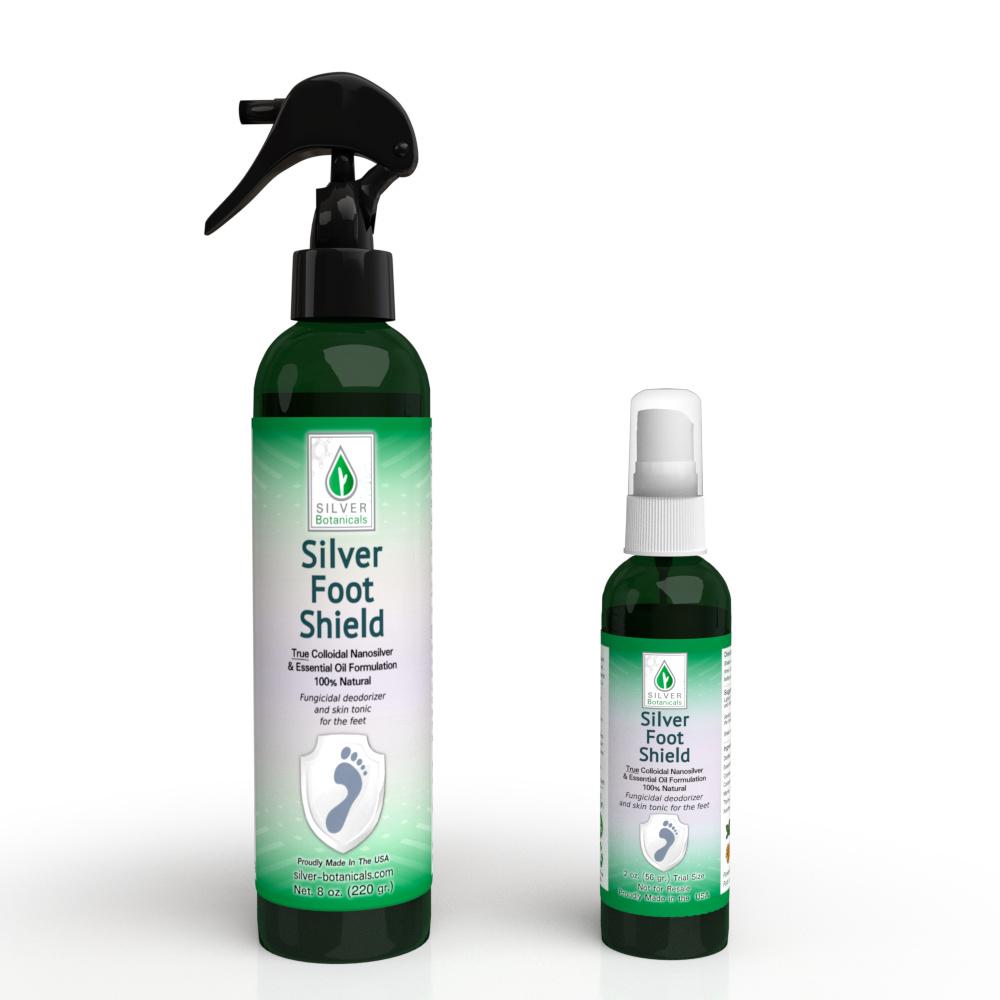 Silver Foot Shield 8oz. & 2oz.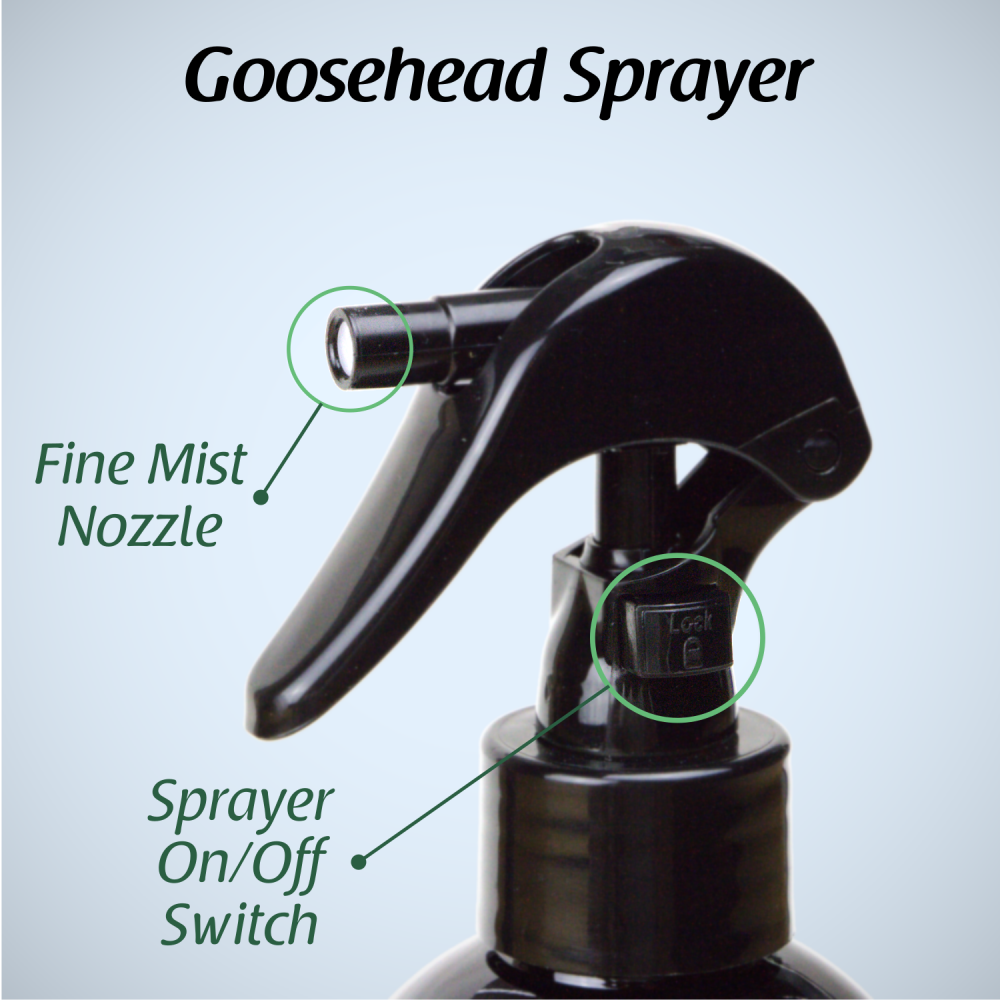 Silver Foot Shield 8oz. Fine-mist Trigger Sprayer
Available in full-size (8 fl oz.) and travel-size (2 fl oz.) bottles.
Turn on Javascript!
Refreshing deodorizer and soothing skin-tonic for the feet

Silver Foot Shield is a wide-spectrum, long-lasting shield against odor. It is intended to be used directly on your feet and also to be sprayed inside your footwear. Use it to deodorize and provide a cool, refreshing feeling for your feet.
Fungus is a very destructive organism to our skin. It is more complex than bacteria and can survive many assaults that bacteria cannot. We use some of nature's best fungus and bacteria fighters in Silver Foot Shield. Pure essential oils provide one level of control, which act very quickly. While colloidal nanosilver provides a lasting shield that keeps microbes under control.
Formula is an excellent skin tonic. It rejuvenates and invigorates your hard working feet. It also puts a pep in your step with the cool sensation of peppermint.
Suggestions
Lightly massage solution into your feet and between toes.
Sanitize your footwear as well - spray the inside areas and let dry.
Use as often as desired.
For maximum shelf life, store in a cool, dark place.
Shake well before use.
Feels cool and clean,
Softens as it dries
Specially formulated to provide long-lasting odor protection, fight bacterial growth and help keep your skin healthy.
Long lasting odor protection
Deters the growth of fungus, bacteria and other microbes
Sanitizes footwear
Linen safe and non-staining
Petro-chemical free
Safe and effective
Made with true colloidal nanosilver
Made with pure essential oils
Animal cruelty-free
Silver Foot Shield FAQ
Will Silver Foot Shield help with foot-itch?
Yes, regular use of Silver Foot Shield should help with periodic foot-itch.
Can I spray the inside of my shoes & socks with Silver Foot Shield?
Yes, Silver Foot Shield will help deodorize and prevent the growth of odor causing germs.
How do I apply this product to my feet?
Spray liberally onto feet and rub solution across the entire foot surface. Ensure to rub solution in between toes.
When should I apply this product to my feet?
It is best to apply Silver Foot Shield in the morning after a shower and before bedtime.
What does Silver Foot Shield smell like?
Silver Foot Shield has a wonderful, natural, & pleasant smell with hints of peppermint, corriander, lavander, & lemon, to name a few.
I can't seem to get the product to spray, what's wrong?
The trigger sprayer is equiped with a locking mechanism at its neck. Press the "Unlock" side to unlock the spray trigger and the "Lock" side to lock the spray trigger.
Silver Foot Shield testimonials
Not magic but definitely helps
I spray frequently used shoes/sandals after they have been for more than a few hours. The spray seems to kill the germs that are there but looks like if you don't wear the shoes for a while the affect doesn't last. I guess that's normal because the nano particles do expire after a few days but again it certainly helps in killing and preventing bacteria from doing their worst.

- AP (Amazon review)

---

Amazing product performs as promised
I wear Sanuk sandals all the time and have taken to frequently washing them as they get super rank. Seriously, 2 sprays in each sandal allow for a full 1-2 days of hard wearing without any odor. Product is great and works. Have to shake it well. Don't need to wash Sanuks anymore.

- Pen Name (Amazon review)

---

Happy Feet
It's so hot in South Florida so it's nice to find a product that makes wearing shoes and sandals fun again. Read that mosquitos are attracted to smelly foot odor. Well, no more smelly feet and no more mosquito bites from my lower legs to my toes. Best part, spray shoes and sandals ahead of time so the spray dries. Footwear is heavenly once more.

- Shelly Cohen "Weathergo_dess" (Amazon review)

---

Good for barefoot shoes
Works really well, has a good scent. I use this on my feet and in all of my shoes. I am a barefoot runner ( Merrell barefoot shoes) and this help a lot.

- Matthew Taylor (via Amazon)

---

This is a miracle in a bottle. In the past I always had to have a mani because i'm too scared for anyone to see my Natural toe nails because they were so discolored........Not any more. I have Natural pink and whites and its summer time flip flops wearing time!

- Nursing2012 (Amazon review)

---

I love it. I had a fungus issue that I couldn't get rid of after using several products. However, this product cleared it up in just 3 days! I love the scent and the way it leaves my feet feeling fresh.

- Adam C. (Email comment)

---

A number of years ago I injured my foot and something set in. My toenail had become discolored and sensitive to the touch ... I've tried most everything out there and haven't had much luck ... I started using Silver Foot Shield and I'm seeing things improve! The sensitivity has almost completely gone away and the color is returning to normal. Hopefully I've found my solution!

- Val A. (Email comment)

---