Silver Tongue Oral Care
Powerful oral care, yet gentle and tastes great!
Specially formulated with Colloidal Silver and Essential Oils, plus other synergistic ingredients for optimal oral health.
Fluoride-free
Alcohol-free
Petro-chemical free
No burning sensation
Made with true colloidal nanosilver
Made with pure essential oils
Animal cruelty-free
---
$3.50 for a 4 oz. bottle + S/H
$13.75 for a 16 oz. bottle + S/H
$24.99 for a 32 oz. bottle + S/H
Effective Oral Care
Silver Tongue Oral Care is a highly effective natural mouthwash. It is carefully crafted with premium ingredients to deliver excellent results. It also tastes great with essential oils of cinnamon, peppermint and myrrh. Plus, it does not burn like a typical mouthwash from harsh ingredients like alcohol and synthetic agents. One try and we think you will agree, or your money back.
Key properties
Safe and effective as a daily rinse for optimal oral health
Promotes good breath
Normalizes microbes in the mouth
Made with Colloidal Silver and Essentials Oils
Tastes great, plus no harsh burning sensation
Discussion
Think for a moment how important your mouth is ... It is connected to your throat, which leads to your stomach and lungs.  It is interconnected to your ears via your Eustachian tubes, which also connects to your sinuses. Your sinuses surround your eyes and spreads through your forehead - closely sharing blood with your brain.  Then, of course, there is your teeth and tongue which are directly housed in your mouth, which affect your ability to eat and speak properly. The mouth and its interconnected regions are very critical for your life.

The mouth is also a dwelling place for many different pathogens. In fact, a very wide variety of destructive pathogens have adapted very particular traits and modes of transmission based on our mouth's complex job and it's relationship to our lives. These pathogens can effect our entire head - our visual and audio senses, our "gyro" (our sense of balance), our mood and state of mind, our ability to breath easy, our ability to taste properly, etc. Keeping pathogens under control in our mouth is very important for health and happiness!

Silver Tongue Oral Care works to balance and promote optimal oral health. Silver Tongue is 100% natural and effective. We're confident you'll notice real results.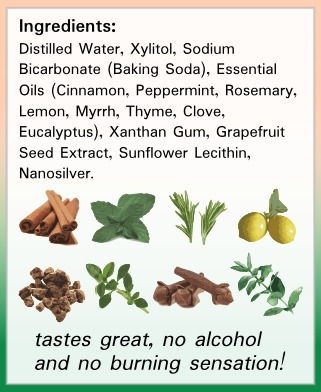 Ingredients Column from Label
High quality, all-natural ingredients
True Colloidal Nanosilver
Xylitol (birch tree origin)
Grapefruit Seed Extract
Sunflower Lecithin
Essential oils of:

Cinnamon

Peppermint

Rosemary

Lemon

Myrrh

Thyme

Clove

Eucalyptus

---
About Our Ingredients
Silver Botanicals products contain safe and natural ingredients. We do not use petrochemical ingredients, GMO ingredients, synthetic ingredients or known-harmful substances. We also verify, by in-house testing, that all our ingredients are free of nuclear radiation contamination (i.e. free of elements that radiate aberrant levels of alpha, beta or gamma particles). We only use high quality, food grade ingredients. We do not conduct animal testing, or outsource any such tests; our products are cruelty-free. For more specific questions about our ingredients, please contact us!
About Our Essential Oils
At Silver Botanicals we use 100% pure, unadulterated essential oils. This means that nothing has been added and nothing has been taken away.  Our oils are mostly steam distilled, with a few oils that are absolutes, cold-pressed, or extracts.  Our oils are organic and/or wildcrafted whenever possible. Our oils are selected with respect to their native regions of the world which impart their respective theraputic value and potency.
Would you like to know more about essential oils?
About Our Colloidal Silver
At Silver Botanicals we use true colloidal silver.  We source our colloidal silver from a premium manufacturer whose end product is a refined nanosilver concentration suspended in distilled water.  Our silver particles contain, on average, around 30 atoms (~0.65 nanometers in diameter).  Our products contain between 10-30 ppm of nanosilver.  Both particle size and concentration (ppm) are ideal for our products' intended use.
Would you like to know more about colloidal silver?
Clinical Use
Silver Tongue Oral Care at work
Silver Tongue Oral Disinfectant at work
Update Required
To play the media you will need to either update your browser to a recent version or update your
Flash plugin
.
Microscopy video courtesy of Nunnally, Freeman & Owens Dentistry, Marble Falls, TX.
Silver Tongue Oral Care is used in clinical settings.
The following video shows gum scrapings from two different patients (pre-Silver Tongue-irrigation and post-Silver Tongue-irrigation) under the microscope. What you're seeing in the pre-irrigation footage is a variety of bacteria along with parasites, thriving on food debris and gum tissue. The samples collected are from periodontal disease patients. The treatment was performed by Nunnally Freeman & Owens Dentistrty, of Marble Falls, Texas.
Discussion
The mouth, or oral cavity, is an ideal environment and home for a host of microorganisms.  It is warm, moist, nutrient-rich, riddled with tight spaces and crevasses, and consistently bathed in a relatively neutral pH saliva.  Most or these microorganisms are beneficial and, in fact, essential for oral health. They live in a symbiotic state mutually beneficial to one another and the host.  While this symbiosis is usually stable, changes in microbiota balance where populations "bad" microorganisms'  get out of control can lead to maladies such as halitosis (bad breath), gingivitis or periodontal disease. So having a mouth free of microorganisms is not beneficial to oral health and should not be the goal. Maintaining the "good" oral microorganisms at normal levels is.  Many of oral hygiene products on the market are focused on their activity as a strong, general antimicrobial material.  They are likely to contain alcohols, synthetic terpenes, synthetic polymers, synthetic sweeteners, synthetic flavors, and a myrid of other synthetic compounds.  How conducive do you think this synthetic soup is a maintaining this delicate balance of oral microorganisms?  We're not very optimistic about it. Having a healthy populations of "good" oral microorganisms is one of our first lines of defense against "bad" microbes from gaining a foothold.
This complex, interacting community of microorganisms in the mouth forms biofilms on many of its surfaces. These films exhibit emergent properties resulting in many positive functions and increased resistance to antimicrobial agents and other stresses.  However, two of the most significant drivers that push stable, symbiotic, oral microorganism populations out of whack are pH and nutrient status. Diet is a major factors affecting both drivers. For example, diets with high levels of sugars and carbohydrates experience more acidic pH shifts in the oral cavity. This in turn leads to a significant increase in acid-tolerating bacteria and the displacement of oral-health-associated, neutral-pH-loving bacteria.
Bottom line, oral hygiene starts with what you put in your mouth and a diet low in sugars and simple carbohydrates is very helpful.  Regular brushing,  flossing, irrigating (e.g. using a water pik) is also very important as they remove excess nutrients from the mouth that can disrupt the balance in this community of microorganisms. But what else can help in keeping our mouths healthy?
That's where Silver Tongue Oral Care comes in.  Silver Tongue Oral Care is an all-natural blend of natural antimicrobial materials that safely helps bring our oral microbial communities into balance by neutralizing acidic mouths and normalizing the population of oral bacteria in the mouth.  Using colloidal nanosilver and a blend of essential oils known for their antimicrobial, anti-inflamitory, and anti-infectious properties, Silver Tongue Oral Disinfectant is a great tasting, long-lasting oral rinse that can help with a variety or oral maladies.
Frequenty Asked Questions about Silver Tongue Oral Care
Is Silver Tongue Oral Disinfectant a mouthwash?
Yes, Silver Tongue Oral Disinfectant is a mouthwash, but it also much more. Not only does it freshen your breath, it also is full of oral-health related ingredients.
Can I use Silver Tongue Oral Disinfectant in lieu of toothpaste?
Yes, brushing with a tablespoon of Silver Tongue Oral Disinfectant is a great way to clean your teeth and gums.
Plus, it can be a great alternative for those who have been advised to stop using toothpaste as it concerns tooth enamel wear.  Toothpaste contains silica and other abrasives, which Silver Tongue Oral Disinfectant does not.
Does Silver Tongue Oral Disinfectant burn when rinsing, similar to alcohol-based mouthwashes?
No, Silver Tongue Oral Disinfectant does not contain any alcohol, or synthetic essential oils, which are generally responsible for this unpleasant feeling. It is easily tolerated in the mouth. This is not to say that you won't feel it working. Many people describe a pleasant tingling sensation.
What does Silver Tongue Oral Disinfectant taste like?
Silver Tongue Oral Disinfectant has a complex, pleasant taste with hints of cinnamon and peppermint ... We hear often that 'it tastes great!' We created it to taste good. We think you will agree.
Can Silver Tongue Oral Disinfectant help reduce germs associated with mouth sores?
Yes, Silver Tongue Oral Disinfectant is designed to fight a broad array of mouth-born germs, including those commonly associated with mouth soars.
Can Silver Tongue Oral Disinfectant help prevent bad-breath?
Yes, rinsing or brushing with Silver Tongue Oral Disinfectant in the moring and evening can help prevent bad-breath.  It can also help to knock-out existing bad-breath.
Is there an expiration date for Silver Tongue Oral Disinfectant?
Yes, currently Silver Tongue Oral disinfectant has a shelflife of one year. This does not mean it goes bad at that point, but we believe Silver Tongue Oral Disinfectant is at it's best when fresh.
Is Silver Tongue Oral Disinfectant sealed?
Yes, Silver Tongue Oral Disinfectant comes with an aluminum safety seal. Please to don't purchase or return any bottle that does not have an intact seal in place.
What is used to sweeten Silver Tongue Oral Disinfectant?
A natural sugar called Xylitol is used. This sugar does not promote tooth decay, in fact, it actually is helpful in fighting oral bacteria. Bacteria that encounter this sugar try to eat it but find that it "gunks up" their cellular machinary.
Testimonials of Silver Tongue Oral Care
Great mouth wash
I love the taste of this mouthwash, my mouth felt clean and my breath was fresher in the morning. It does not burn my mouth at all! I do however think the price is a little much for what you get! :)

- Amazon Customer (Amazon review)

---

Good Stuff!
I am very happy with this product and have reordered it a number of times. That says it all. It's nice to know it is vegan for anyone who has dietary restrictions.

- Lauren Beth Vaughan (Amazon review)

---

love it
This is the best mouthwash ever...after one week of using this, i have no more swollen gums...its really really great

- rgirl (Amazon review)

---

Tried and it is not a fake!
This stuff was fantastic. I still brush before i use this product. I mean if you eat onion or garlic, listerine will not take those smells away, but this product really eliminates any taste or smell, and it clears your tongue of white spots from my experience after some uses.

I am not a family member or a friend, and I did read the review about these people being fake, i highly doubt it. I have tried several of their products. The silver deodorant is great, but some with sensitive skin like my wife can't use it anymore, so we make homemade stuff. The mouthwash however is wonderful. Cheers!

- T. Wright "T.L. Pop" (Amazon review)

---

Fantastic Product
Great quality, works well, and leaves the mouth feeling clean. This is my new favorite mouthwash. Quality ingredients - you can tell when you use this.

- q-er (Amazon review)

---

Effective, tasty and worth every penny!
I have been using this product for over a year now, and am completely sold on it. It's far more pleasant to use than any of the mainstream products, and I like supporting small businesses as well. My dentist has done diagnostics on the effectiveness and uses it for teeth and gum cleaning. It's concentrated so a little goes a long way - use it for brushing, rinsing and/or diluted in a waterpik. I met the owners at a local farmer's market and they are brilliant, educated, ethical, friendly people. I've tried all of their excellent products, and this is one of my favorites, along with the skin serum.

- HMS "HMS" (via Amazon)

---

Top notch oral hygiene product
My primary physician had put me on a topical product containing colloidal nanosilver for a skin injury. It was so successful it inspired me to look into the health benefits of colloidal silver in general. I came across this oral mouthwash and decided to try it out. My husband fell in love with it (I like it too, but he's picky and skeptical about just about everything, so if he's pleased I'm pleased). He especially has a tender mouth, and is concerned about oral hygiene. We tended to use Listerine products, which can be very harsh, and apparently some studies show alcohol based mouth wash can increase risk of mouth cancer. This product, however, has all kinds of good stuff in it, and I brought it to my dentist to look over and he concurred. The ingredients are: distilled water, xylitol, sodium bicarbonate (baking soda), essential oils (cinnamon, peppermint, rosemary, lemon, myrrh, thyme, clove, eucalyptus), xanthan gum, grapefruit seed extract, lecithin, nanosilver. The nanosilver is what caught my attention in the first place, it has antibacterial properties, but the other ingredients are very helpful as well, freshens breath without the harshness. My husband had a toothache and the first time he rinsed with this the toothache went away. It has now become part of our daily oral routine.

- Miri (via Amazon)

---

How do I love thee, let me count the WAYS!
I started using Silver Shield deodorant about 9 months ago. Previously I used natural deodorants for 30 years, with limited success, and I have to say that the Silver Shield not only lasts all day and into the night, it also does not contain any parabens, urea, or other more toxic ingredients. The armpit is the ventilation system for the brain. Many of the lymph glands reside there. I am so grateful to find something that rolls on smoothly, smells wonderfully uplifting, and really does its job.

I decided to branch out and try the Silver Tongue Oral Disinfectant as well and was so surprised at how pleasant the taste is, and how fresh and sparkly my mouth feels after I use it. I even brush my teeth with it and it's fantastic! I like to put a little of this product in my mouth and pull it across my teeth for awhile, similar to oil pulling. I interface closely with the public every day, and I am very satisfied with the quality and efficacy of this product. My mouth feels fresh for hours after I use it.
Kudos to a company that really works to create products that don't harm people or the planet and which are fabulously effective.

- Dogstar (via Amazon)

---

This stuff needs to be in all stores
This stuff is great for oral care. I noticed that i had less plaque build up and my mouth was less dry. No only if it could be cheaper i would be set. I love the hint of clove in the taste and the lack of burn.

- DJdoze (via Amazon)

---

Fantastic results!
The Silver Tongue Oral Disenfectant has done more to reduce the inflammation and odor of gingivitis/peridontal disease than any other product I have ever used. Improvement was evident quickly, (3 weeks in my case). My gums continue to improve! The product leaves my mouth smelling clean and fresh with no chemical aftertaste. I have noticed my gums are less red and inflammed.I am very impressed at the improvement in my oral health!

- T. Thompson (via Amazon)

---

Unlike Anything I've Tried - Amazing
This is the first mouthwash - but more accurately, full mouth care - that I've tried that does not burn when you use it, and actually, really, no kidding leaves you with perfectly fresh breath AND no morning breath the next day! I was nothing short of stunned when I tried it. The fact that it's entirely natural is an incredible bonus. There is nothing else on the market that is as good as this.

- Michelle (via Amazon)

---

A-MA-ZING!!!!
This mouthwash is absolutely amazing!! I dont like other mouthwashes because of the burn...this does not have that! I love how after you can still see all the plaque this gets off your teeth after you have brushed! Its now a household favorite!!

- Pen Name (via Amazon)

---

LOVE PRODUCT
I love this mouth wash! I use it twice a day and have great longlasting results. I used to hate how store baught mouth wash would only work for a few minutes and how it would create nasty build up on my gums. This product takes a minute to get used to the color. But I would recommend it to anyone. I LOVE IT!!

- Nadia12 (via Amazon)

---

Great mouthwash!
Tried this and ready to order more! Use it to brush my teeth as well as a wash! My teeth feel so clean and the after taste is very pleasant and makes ones breath fresher longer!

- Racheal Carson "Mary" (Amazon review)

---

Will not use anything else.......
This product is exceptional for effective NATURAL dental hygiene, to say the least!!! No reason to use tooth paste either. I find all I need is this mouthwash to brush with. Has a Cinnamon and Clove taste at first was unpleasant most likely due to all the oral bacteria growth. No Toxic Chemicals, Works without side effects, Naturally Fresh all day!!!
For clarification, these other toxic conventional products actually contain harmful chemicals that NOBODY should be putting in their mouths. ACTIVE INGREDIENTS: CONTAINS: THYMOL (0.064%), EUCALYPTOL (0.092%), METHYL SALICYLATE (0.060%), MENTHOL (0.042%) INACTIVE INGREDIENTS: WATER, SORBITOL SOLUTION, ALCOHOL (21.6%), POLOXAMER 407, BENZOIC ACID, FLAVORING, SODIUM SACCHARIN, SODIUM CITRATE, CITRIC ACID, FD&C GREEN 3. Obviously the list above has very few items that can be found within nature..........
Ingredient Breakdown
THYMOL: Organ system toxicity in lab animals.
POLOXAMER 407: Organ system toxicity, gastrointestinal issues: diarrhea, brain, nervous system toxicity, behavioral issues.
FD&C GREEN 3: Cancerous tumors at site of application.
BENZOIC ACID: Cancerous, organ system toxicity, irritation to skin, eyes, or lungs.
SODIUM SACCHARIN: Kidney or renal system tumor formations.
METHYL SALICYLATE: Primary eye irritant in rabbit test subject. Also found that one's central nervous system can be damaged when exposed to this additive.
EUCALYPTOL: Brain, nervous system, and behavioral effects. Some test subjects (rats) displayed convulsions and/or seizures when given eucalyptol. Although somewhat natural, eucalyptol is toxic if ingested at high doses.

- Nursing2012 (Amazon review)

---

Beyond Awesome! What's the Value of a Great Kiss?
I tried this mouthwash after having fabulous results with the deodorant that this company Silver Botanicals also manufactures. I am an available bachelor, so I consider oral hygiene of particular importance and simply put this is the best mouthwash on the planet! First it really works! Second, fresh pleasant taste! Third, no alcohol burn. It's awesome! I love the way it makes my mouth feel!

- Chile Joe (Amazon review)

---

Fantastic!
Who likes mouthwash anyway? I mean the burning from the alcohol is very unpleasant. But this oral disinfectant does the job without that horrible burning sensation. My teeth feel much cleaner throughout the day. The taste is very doable and my breath feels fresher longer. I won't go back to retail mouthwashes again!!

- clatrice13 (Amazon review)

---